All on 6 Dental Implants Treatment
If you opt for All-on-6 dental implants in Turkey, you can acquire excellent results at a fraction of the cost. All-on-6 dental treatment is known to be very expensive, its price varies between €15,000 and €25,000 in Europe, but the price is very affordable in Turkey. All-on-6 dental implant prices are between $3000 and $6000 in Turkey.
All-On-6 Dental Implants in Turkey: Benefits
If you have severe problems with your teeth, such as loosening, significant decay, cysts have formed at the tooth's root, or most of the teeth need to be extracted, the all on four or all on 6 dental implants may be the proper treatment.
Furthermore, if you have been told that you cannot use a fixed prosthesis by implanting due to osteoporosis-a decrease in the amount of bone, you can also solve this problem with all on 6 dental implants treatment.
What Is an All-on-6 Implant Treatment?
The "All on Six" dental implant procedure is an innovative approach in implant dentistry for patients with missing teeth, offering a comprehensive and effective solution to restore oral function and aesthetics.
This method takes a panoramic film of the mouth, and 6 implants for a single arch are applied on the strongest bones. If osteoporosis (bone loss) has occurred in the rear, but there are solid, thick bones in the front jaw bone, the all-on-six treatment is applied with the measurement taken on these bones.
The remaining teeth in the mouth are removed first. In practice, the molars are placed at certain angles in order to benefit more from the jawbone. In this system, patients get their temporary teeth within the first day and continue with temporary ones until the implants fuse with the jawbone. The dentist can specify the exact duration of this period just after the implants are applied.
After the implants bond with the jawbone, the patient is called again for rehearsals. The patient selects the color and the shape of the new teeth, and then the permanent teeth are fixed to the implants.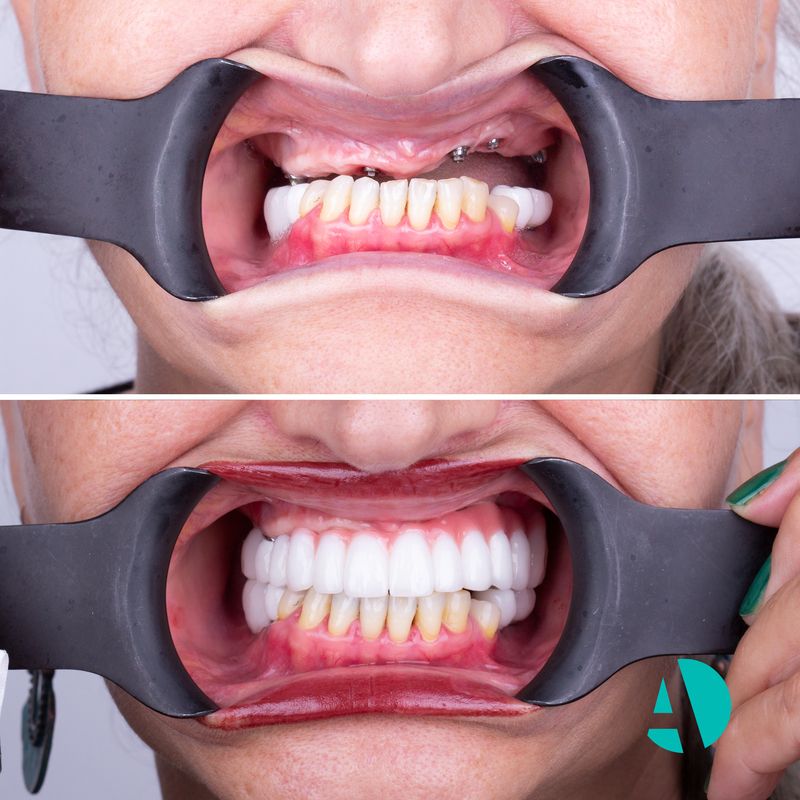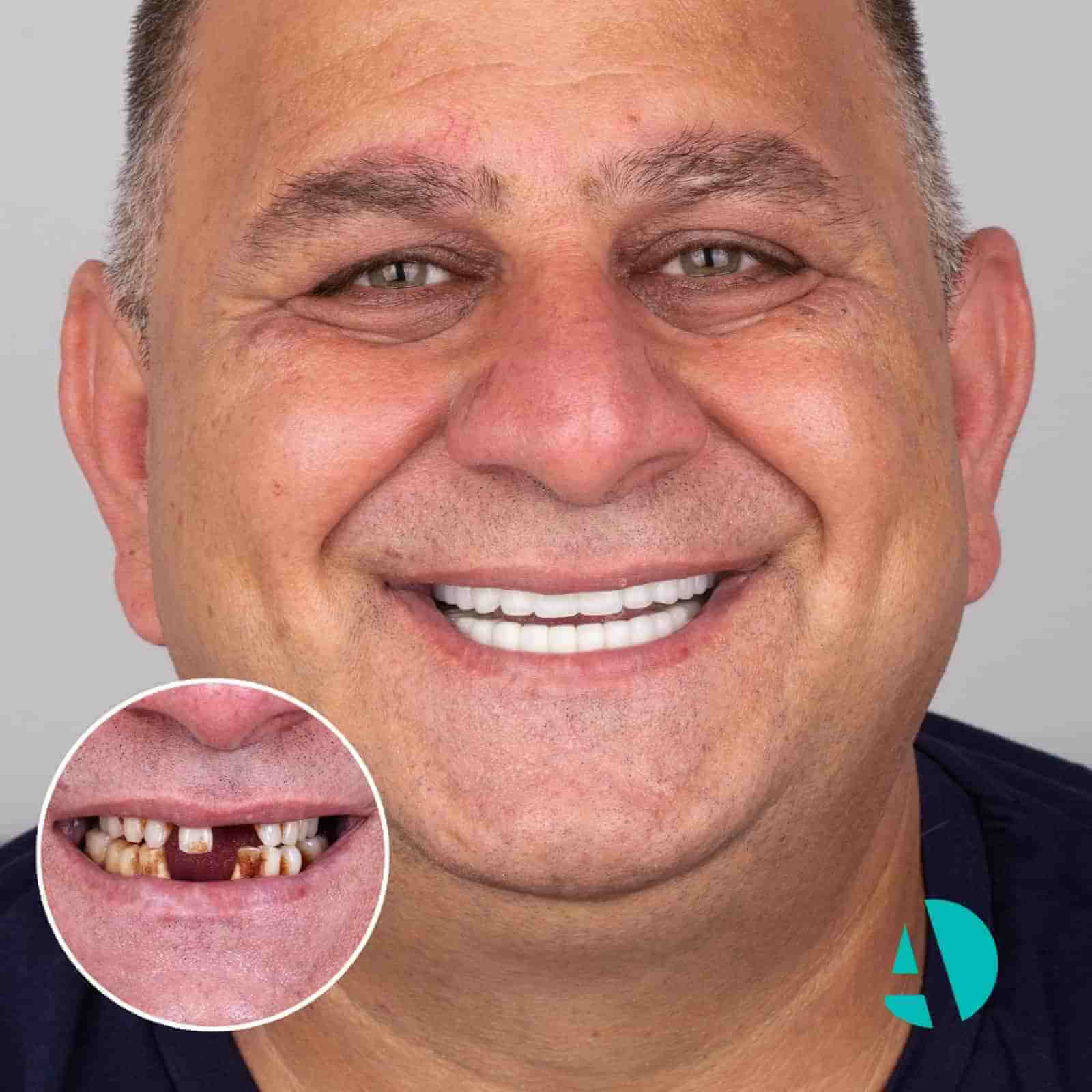 Steps in the All-on-6 Implant Procedure
All-on-6 treatment basically involves 3 steps, and each of these steps requires a different treatment pattern.
Consultation and 3D X-Ray
Upon the patient`s arrival at the clinic, a detailed examination is made. Dentists check the shape of the teeth, and with the help of the 3D X-Ray, they specify tissue and bone density.
Temporary Teeth
Dentists and orthodontists decide on where to place the implants or if there is a need for bone augmentation. If the patient's jawbone has healthy bone density, the holes are drilled, and the implants are placed into these holes.
The impressions of new implants are taken, and temporary teeth are produced within one or two days. After placing temporary teeth, the dentist can more precisely calculate the next visit time, which usually lasts about 3 to 6 months.
Healing Period and Second Visit
After the completion of healing, the dentist firstly assures that the implants fully bond with the gum tissues, and then the last impression is taken to produce permanent teeth.
The patient is required 2 or 3 trials to decide the shape and color of permanent teeth. These trials and production of new teeth take about 5 days or one week.
Free Appointment - Full Mouth Dental Implants
You can make a free appointment below to have a full mouth dental implant in Antalya.
16+ years of dental treatment experience and professional patient services.
Free Appointment
How much does all on 6 dental implants cost?
| COUNTRY | All on 6 Costs Between | Average All on 6 Cost |
| --- | --- | --- |
| USA | $15000-50000 | $25000 |
| UNITED KINGDOM | £12.000-20000 | £14.000 |
| GERMANY | €12000-18000 | €15.000 |
| TURKEY | £7.000-9.000 | £8.000 |
All-on six dental implant cost in Turkey are very affordable prices compared with other regions.
What is difference between All-on-4 and All-on-6 dental implants?
The main difference between these two types is the number of implants applied. In the All on Four treatment, 4 implants are used for each palate. These are the minimum figures for a whole mouth implant treatment. As for the All-on-six treatment, 6 implants are applied to the lower jaw and upper jaw, which causes more balanced pressure and thus provides more comfort and longer-lasting to the patient.
The reason why some patients prefer All-on-four rather than the all-on-six is because of the price or patient's bone density. All on-6 dental implants cost in Turkey more than All-on-four, and some patients may require bone grafting and sinüs lifting surgeries. If the patient has enough bone densıty, All on 6 dental implants work better and are a perfect choice.
Related: Top 5 Options for Replacing a Missing Tooth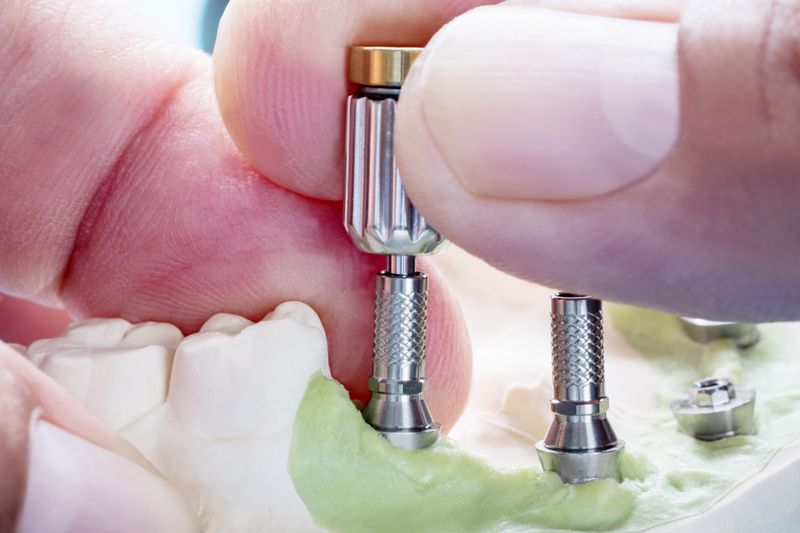 Which is better All-on-6 or All-on-4 dental implants?
In cases of complete edentulism, both all on six and all on four dental implants techniques can offer solutions to the problems our patients experience. However, the answer to the question of which of these two treatments is better depends on the suitability of our patients' jaw structures. Because in order to apply all on 6 and all on 4 dental implants techniques, our patients must have sufficient jawbone volume.
Technically, 6 implants are placed in the jawbone in the application of all on 6 dental implants, while 4 implants are used in the procedure of all on 4 dental implants. In this case, all on 4 dental implant application requires less jaw bone volume. Choosing between two implant dental treatments depends on this condition.
In addition, another situation is that the number of implants used in these treatments affects the cost and recovery time of the treatment. All on 6 dental implants have a higher cost and longer recovery time than all on 4 dental implants. However, since more implants are used in all on 6 dental implants treatment than all on 4, it is possible to place dental prostheses on a more solid structure. However, it should be known that the increase in the number of implants used in the all on 6 dental implants technique will prolong the treatment period and increase the risks of complications that may arise.
As a result, which of the all-on-4 or all-on-6 dental implants is better should be decided according to the recommendations of our specialist dentists, taking into account the conditions and advantages we have mentioned. Our specialist dentists will evaluate which of these techniques is the right choice for each patient, as a result of a detailed examination.
How long do All-on-6 implants last?
All on 6 dental implants consist of two main parts; implants and prosthesis. In addition, the implant is divided into two parts as abutment and screw part. With proper care, implants can last about 30 years or a lifetime. For most patients, prostheses may wear down more quickly and need to be renewed in 10 years or 15 years. Dentists can change the prosthesis without damaging the implants.
What can affect the lifespan?
Like any dental treatment, some conditions affect how long All on 6 dental implants may last, these include;
Oral Health;
If you want to have a longer-lasting All on 6 dental implants, the first thing you need to do is to have high-quality oral hygiene (regular brushing and flossing). The primary factor contributing to the increased risk of tooth loss in adults is gum disease. Oral hygiene protects your mouth from a build-up of plaque and prevents gum disease, which causes discomfort with your All on 6 dental implants. So, dentists don`t apply All on 6 dental implants unless they are sure that there is no gum disease in your mouth.
Lifestyle;
If you are a heavy smoker or have heavy drinking habits, All- on-six implants will dramatically affect these habits. Especially during the healing process, excessive nicotine hinders blood vessels from carrying enough oxygen to the treated area, thus resulting in a slower healing process.
After having an All on 6 dental implants, you shouldn`t drink alcohol for at least 72 hours to have a fast recovery process.
Injury or Damage;
While your implants are made strong enough to resist damage, they can still be affected by getting injured, chewing, eating sticky foods, opening bottles, etc. If it is not too big, your dentist can repair it without changing your implants.
Advantages and Disadvantages of All-on-6 Implants
All-on-six treatment has many advantages, such as;
Advantages of All On Six Dental Implants
You will have permanent dentures.
You can use your new teeth just like natural ones.
It is a lifelong treatment.
It creates a younger appearance
Pearly smiling
Fast healing process compared to a full mouth implant treatment.
Bone augmentation is less likely to require.
Easy maintenance and care.
Contribute to oral health.
Besides its advantages, it also has a few disadvantages that should be considered when considering all-on-six treatments.
Disadvantages of All On Six Dental Implants
After placing temporary teeth, the patient needs to wait at least 3 months for the healing process. Any pressure can crush the implants during this period and increase the failure risk.
If the patient lost his or her teeth, the dentist is more likely to require a bone graft- which adds additional cost and time to the treatment.
All-on-six is a whole mouth construction procedure and should be done under highly hygienic conditions. The orthodontists prescribe antibiotics before and after the procedure to secure the infection risk.
How long does all on 6 dental implants take?
Those who want to have all on six dental implants can get his or her temporary teeth within the first or second day. However, the process is not as easy as it seems, but not too challenging as well. The patient needs to go through 4 stages to have an All on four treatment.
Consultation:
An orthodontist or a dentist examine the mouth and takes an x-ray and CT scan of the teeth.
Implant Placing:
The holes are drilled, and implants are placed into the holes. New teeth impressions are taken to produce temporary teeth. Temporary teeth also need to be corrected with a few visits to the clinic.
Healing:
The healing period takes about 3 to 6 months, depending on the severity of the surgery and patient reactions to the new implants.
Placement of New Teeth:
Placement of new teeth takes about 5 days to one week, in which the patient is required to decide on the color and shape of the new teeth during this stage.
Other factors that affect the treatment period are;
Tooth Removal:
If one of your teeth is infected, it needs to be extracted to prevent infection. Sometimes removing a dead tooth enables blood vessels to penetrate more efficiently into the bone nerves.
Bone Graft:
Many reasons may cause bone loss, such as injury, gum disease, and not replacing a missing tooth with a new one.
What should be considered for all on 6 dental implant treatment in Antalya?
While getting all on 6 dental implants in Turkey, the technology of the clinic, the quality of the materials used, the warranty periods it has given, all on 6 before and after photos, reviews, prices, the expertise and experiences of the dentist staff can be researched.
Why Choose All-on-6 Instead of Standard Implants or Dentures?
All on 6 dental implants are a whole mouth restoration, while regular implants only fix the treated area, and in most cases, they require more holes than All on six.
In regular implants, dentists can't be aware of the dead tissues of the different areas of the mouth, which prevent the mouth from healthy functioning. However, the all-on-six treatment corrects all problems, from dead tissues to bone augmentation.
All-on-six treatment has a success rate of more than 90 percent even after 15 years, but this is not the case for regular implants.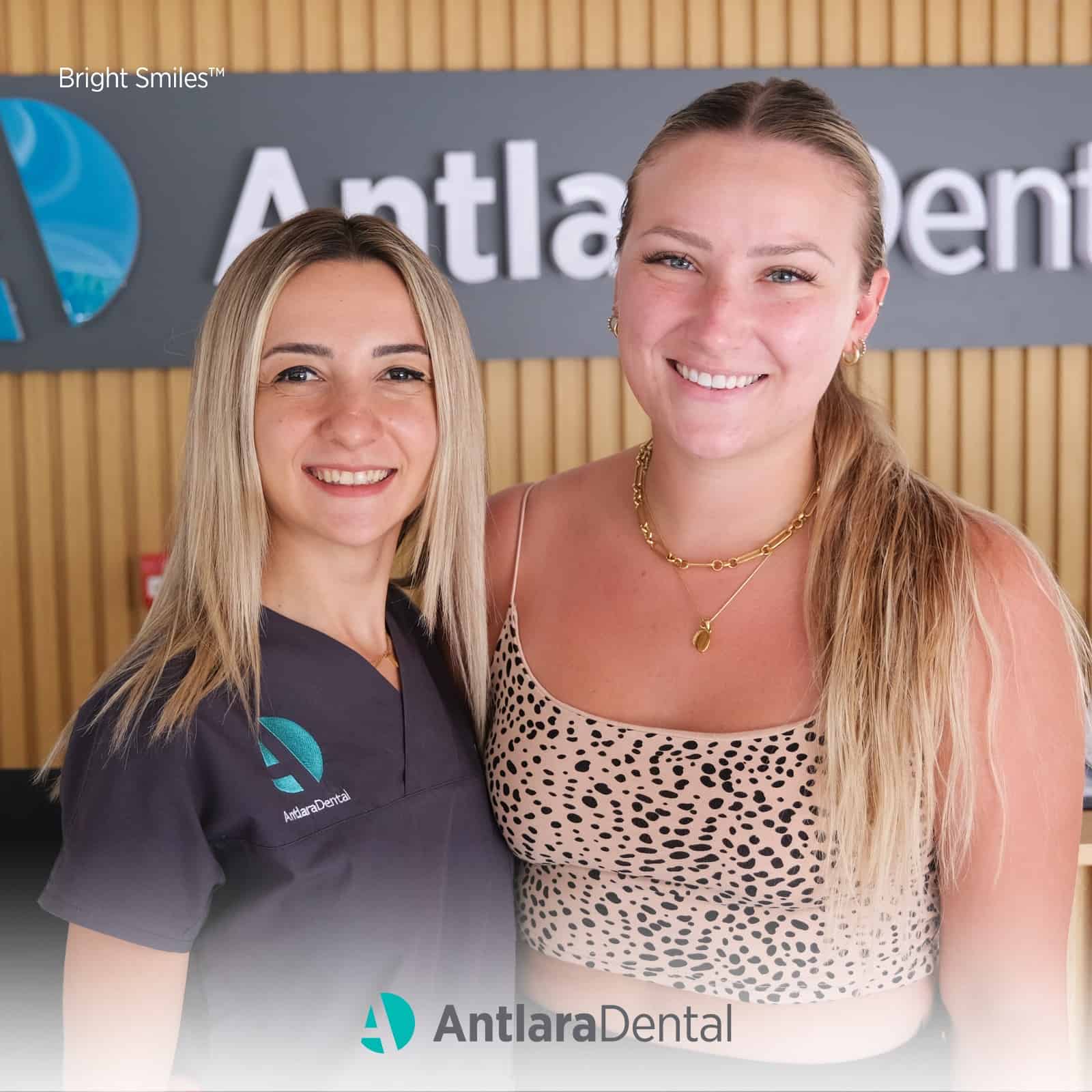 All-on-6 Dental Implants in Turkey
If you opt for all on six dental implants in Turkey, you can acquire the same amazing results at a fraction of the cost. All-on-six treatment is known to be very expensive, its price varies between €15,000 and €25,000 in Europe, but the price is very affordable in Turkey. All on-6 dental implants Turkey price is between $3000 and 6000.
Three main components lay behind a successful all-on-six treatment. Experience, technology and equipment, and education of dentists. It is also controlled by the ministry of health. You can find all of these requirements in Turkey, like in the USA, Canada, or England.
At Antlara Dental, we have been serving our patients for more than 18 years, and our team specializes in every field of dental surgery, including; orthodontic, esthetic dentistry, medical aesthetic, implant surgeries, all-on-four dental implants, dermal filling, Invisalign, endodontics, jaw disorder, laminate applications, CGF applications, Zirconium porcelain crowns, pedodontics.
All on 6 Dental Implant Technique - FAQ
How painful is all-on-6?
Before the surgery, local anesthesia is administered to the patient. So, the patient only feels some vibrations of the tools during the surgery and drilling the holes for implants. After the anesthesia wears off, the patients may experience some tenderness or swelling for about ten days.
How long does it take to get used to All-on-6 dental implants?
Getting used to All-on-6 dental implants may vary from patient to patient. Some patients feel comfortable within a few days, while others may take up to a few weeks. The healing time of the implants and the healing process of the gums can also affect this acclimation time. Your dentist will follow you through this process and will help you with any problems.
How to clean all on 6 dental implants?
It would be enough to clean your All-on-six implants to follow these steps properly.
Use super floss for cleaning,
Use anti-bacterial mouth rinse,
Use an electric toothbrush for effective cleaning,
Brush your tongue and cheeks to clean oral bacteria,
A regular visit to a dentist for professional cleaning.
Recovery time for all on 6 dental implants?
Most patients can keep on with their daily activities after the placement of implants and temporary teeth, but the healing process can stretch from 3 up to 6 months.
Is All-on-six right for me?
In completely edentulous or missing teeth:
Providing a cost-effective solution to missing teeth,
in addition, it is the perfect solution for patients who want a better appearance and functionality from their prosthesis.
Nutrition after treatment
There are 3 stages in this regard:
First of all, it is 2-3 hours until the effect of anesthesia, which is valid for the majority of dental treatments, is gone. During this time, no food or drink should be consumed.
The second stage is the fusion period of approximately 2 to 3 months, during which the implants are expected to adapt to the jaw. During this period, hard-shelled foods, coffee and acidic beverages should be avoided. Smoking should be stopped if possible, as it slows down the healing process.
The third stage is after the placement of permanent prostheses. Now the patient can use their dentures like their natural teeth.
What kind of anesthesia is applied during the All on 6 dental implants?
Generally, all on 6 and all other implant treatments are performed under local anesthesia. Local anesthesia is sufficient for these treatments. However, sedation can also be applied in all implant treatments, taking into account the patient's anxiety and the excess of the gag reflex.
You are very valuable to us!
Customer satisfaction is our major goal. See what our clients are saying about our services.
I came for a cleaning of my teeth.

I came for a cleaning of my teeth. The treatment was professional. Also the service desk downstairs was very good. awesome!

Marijke van Wierst - 2021
If you are looking for a first class

If you are looking for a first class dental service, look no further. The Antlara dental clinic is without doubt the best in Turkey. I did extensive research about dental implants before making my final decision to travel to Turkey for treatment.
If you are looking for a first class

If you are looking for a first class dental service, look no further. The Antlara dental clinic is without doubt the best in Turkey. I did extensive research about dental implants before making my final decision to travel to Turkey for treatment.

Nikolas Brooten

Sales Manager