What is orthodontic treatment with ceramic braces? What should be considered about ceramic braces in dental prodecures in Antalya, Turkey?
Ceramic braces, also known as clear braces, straighten teeth and correct bite problems. This type of brace consists of clear or tooth-colored ceramic brackets fastened to the teeth with a wire and rubber band of similar colors, making it more discreet than traditional braces.
Ceramic Braces; Costs, Benefits, and Procedure
Ceramic braces, the new favorite of orthodontics, are widely used in orthodontic treatment with their aesthetic features. Because of their transparent appearance, they are very close to the tooth color. Ceramic braces also eliminate problems caused by metal braces, like distorted appearance.
What Are Ceramic Braces?
Ceramic braces, also known as clear braces, straighten teeth and correct bite problems. This type of brace consists of clear or tooth-colored ceramic brackets fastened to the teeth with a wire and rubber band of similar colors, making it more discreet than traditional braces.
You are very valuable to us!
If you are looking for a first class
If you are looking for a first class dental service, look no further. The Antlara dental clinic is without doubt the best in Turkey.
Lisa Godden - 2021
Five Stars Of Course To Ziya!
Clinic manager Ziya Bekir is very friendly and it is super easy to arrange with him an appointment. The doctor Tolga Alp is very professional and nice.
Sandra Jelic - 2021
I came for a cleaning of my teeth.
I came for a cleaning of my teeth. The treatment was professional. Also the service desk downstairs was very good. awesome!
Marijke van Wierst - 2021
Free Appointment - Orthodontic Dental Treatment
You can make a free appointment below to have a orthodontic dental treatment in Antalya, Turkey.
25+ years of dental treatment experience and professional patient services.
Free Appointment
How Ceramic Braces Done?
Dental ceramic braces treatment, as in all other dental treatments, begins with a consultation, X-ray, and the dentist's detailed examination of the mouth and tooth structure. Then, the dentist cleans the infection and plaque formations, and cavities in the mouth.
After the general oral cleaning is completed, the tooth surfaces are thoroughly cleaned with special cleaners. Brackets made of ceramics are glued to the teeth with a unique adhesive, and blue light is applied to them to harden.
Dentists use molar teeth as anchor teeth if the patient's tooth structure is suitable and fix metal bands on them. These bands wrap the molars 360 degrees, and they are set with a special adhesive. In the last stage, the ceramic wire is passed through the brackets and anchored to the molars.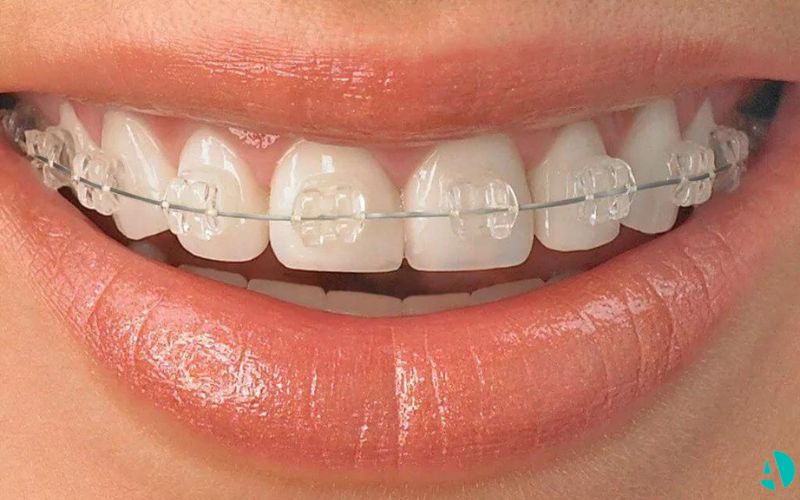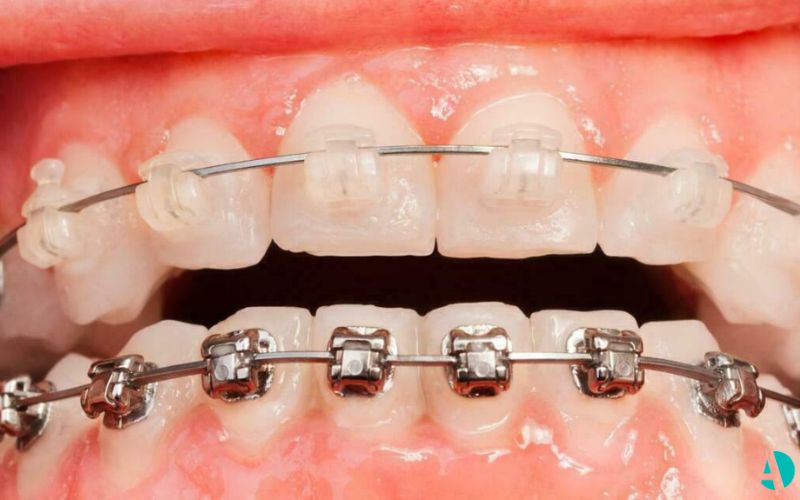 How much longer do Ceramic Braces Take?
Treatment with ceramic brackets takes a little longer because forces must be loaded more slowly into the ceramics compared to metal. Although the duration of the treatment is a little longer, the success rate of ceramic braces is higher than that of metal braces. However, since metal braces also require very long treatment periods, people who are cautious about their aesthetic appearance prefer adult ceramic braces.
What Are the Advantages of Ceramic Braces?
Ceramic braces are not as painful as metal braces.
Thanks to their translucent tooth-colored structure, they are almost invisible.
Since they do not contain metals, they do not cause allergies.
Ceramic braces are an effective treatment. The 4% error rate observed in metal braces in the first 6 months is 2% in ceramic braces.
Since their appearance does not disturb the patient, patients pass the treatment process more satisfactorily.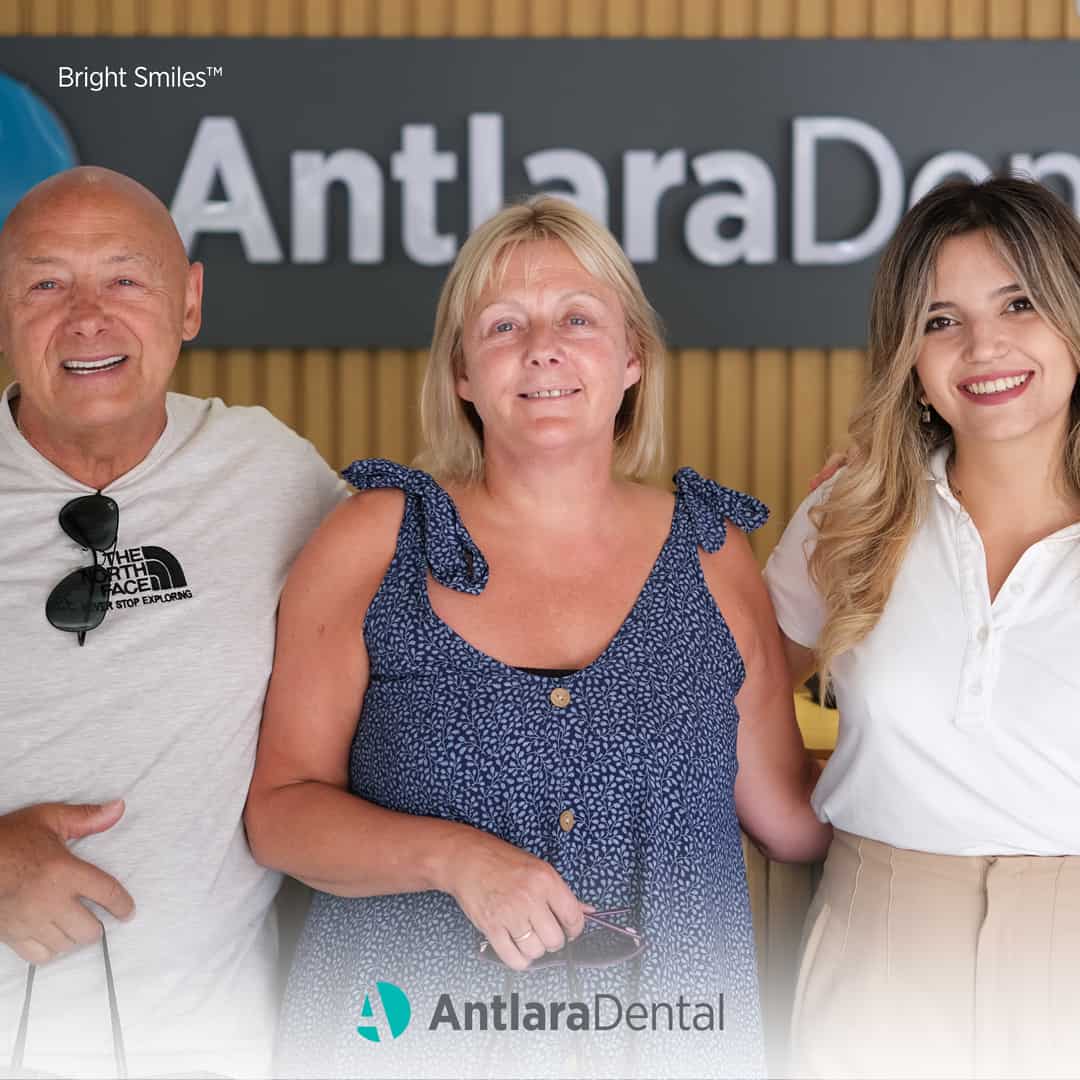 Metal Braces or Ceramic Braces
Metal braces and ceramic teeth braces both have the same function. Although ceramic braces seem advantageous, you should pay attention to the extra price that will cost you. It would help if you also remembered that ceramic braces would likely break, which will cause additional costs.
On the other hand, when you wear metal braces, you should have an allergy test before the treatment. In case of a metal allergy, you can head to ceramic braces or Invisalign braces.
How Much Do Ceramic Braces Cost?
Clinics prefer different brands of ceramic orthodontic braces. None of these brands significantly affects the overall cost. What determines the price is the fee charged by the dentist or the clinic and the extent of the treatment. You can examine the prices of ceramic braces below.
The USA: $4000-$8000
UK: £1,900 - £3,500
Turkey: £700-£1500
Do Ceramic Braces Cost More?
Ceramic braces in Turkey prices are 20% to 25% higher than metal braces. A clinic in Turkey that charges $700 for ceramic braces charges $550 for metal braces. This rate may vary in other countries.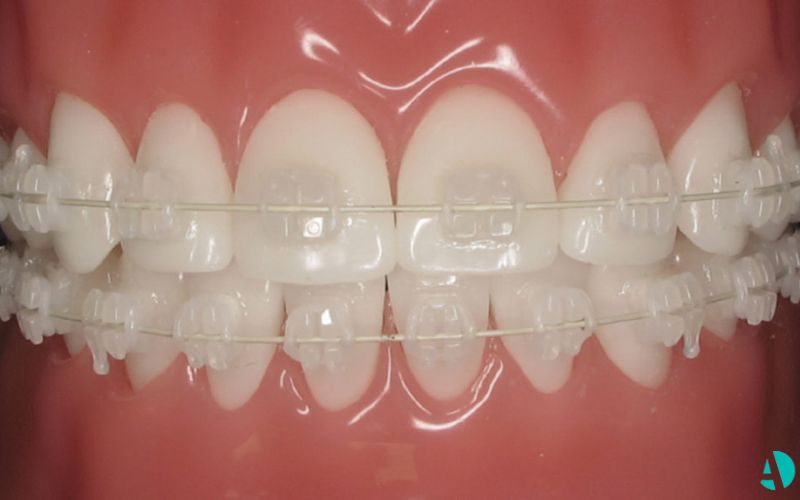 How Long Do Ceramic Braces Take?
The installation of ceramic braces is usually completed within 2 to 2.5 hours on the same treatment day. However, if caries, filling, root canal treatment, or orthodontic treatment is required before treatment, the treatment period may be prolonged.
Ceramic Braces Treatment in Turkey
You can reach Turkey almost anywhere in Europe with a single direct flight for your dental treatments, and you can turn your treatment into a holiday in cities such as Antalya in Turkey. The experience of dentists and the superior technology used by the clinics will satisfy you.
Ceramic Braces FAQ
Ceramic Braces - Antalya
There is no pain during the installation of ceramic braces, but some soreness is felt for 2 to 4 days after the insertion, as well as adjustments of braces. Although this pain is not as severe as metal braces, it can still disturb patients at night.
The biggest cons of ceramic teeth braces are that they are not as resistant to staining as metal braces. That is why good care is required, so their discreetness is not lost. Regular brushing that we apply to our normal teeth is enough for their cleaning. For ceramic braces;
Use a soft toothbrush,
Use interdental toothbrushes,
Prefer toothpaste that contains fluoride and does not contain bleachers,
Brush your teeth regularly.
Ceramic braces offer effective and successful solutions, but since they are fragile, they must be protected from external impacts and demanding food.
Since less pressure is applied to the ceramic braces, their straightening times are slightly shorter. But it is possible to achieve the same results that metal braces provide. Only for very complex problems may your dentist choose to use metal braces.
Ceramic braces are more comfortable than metal ones and less painful after adjustment sessions.
Ceramic braces are resistant to staining. However, they can be stained due to the clear bands surrounding the brackets. In metal braces, these bands are more opaque and, therefore, more resistant to staining. So, you should pay more attention to cleaning ceramic braces.