Dental Crowns
Dental Crown treatment is the process of covering the teeth with tooth-shaped materials to protect the teeth that have lost excessive substance for various reasons. This process does not damage the tooth; on the contrary, it prolongs the life of the tooth.
Get a Free QUATO
If you are looking for a first class
If you are looking for a first class dental service, look no further. The Antlara dental clinic is without doubt the best in Turkey. I did extensive research about dental implants before making my final decision to travel to Turkey for treatment.
Lisa Godden - 2021
Five Stars Of Course To Ziya!
Clinic manager Ziya Bekir is very friendly and it is super easy to arrange with him an appointment. The doctor Tolga Alp is very professional and nice.
Sandra Jelic - 2021
I came for a cleaning of my teeth.
I came for a cleaning of my teeth. The treatment was professional. Also the service desk downstairs was very good. awesome!
Marijke van Wierst - 2021
Dental Crown Treatments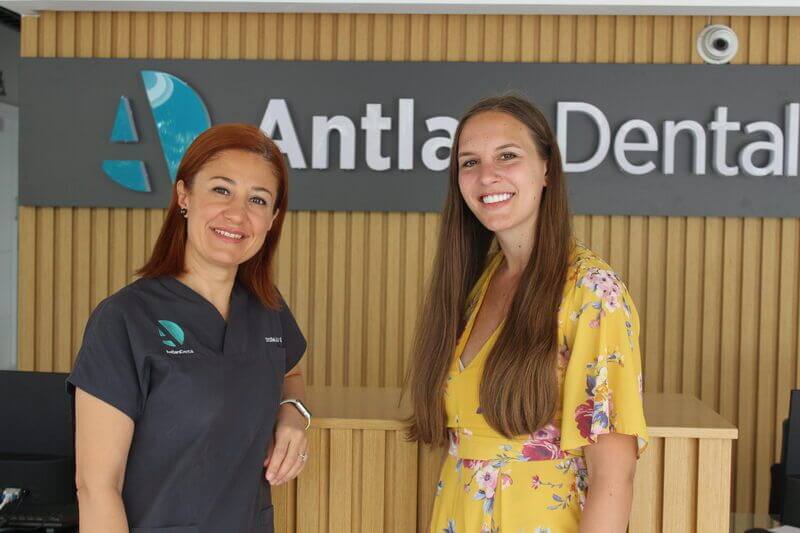 Crowns are used to cover broken, weakened, or treated teeth like filling or root canals. Crowns also offer effective solutions in recovering the aesthetic function of the teeth and in protecting the teeth against fractures.
If you have a tooth that is injured but not completely lost, a crown can restore its shape and function as well. The Crown, called a cap, is a hollow artificial cover that shields the tooth from further impairments. They are also used to cover discolored or malformed teeth.
What is A Dental Crown?
Crown treatment is the process of covering the teeth with tooth-shaped materials to protect the teeth that have lost excessive substance for various reasons. This process does not damage the tooth; on the contrary, it prolongs the life of the tooth. Teeth can also be crowned for aesthetic reasons, but in this case, it would be better to prefer veneers, which cause fewer restorations on the tooth surface.
The amount of abrasion varies according to the type of crowns teeth and the aesthetic expectation. In some cases, the teeth can be covered without abrasion. In implants, it is also possible to apply them with screws, apart from bonding.
The crowns are made both handcrafted in laboratories or untouched by CAD-CAM technology and will not survive for a lifetime. Still, you can expect a survival period of more than 20 years.
Who Needs Dental Crowns?
Among the most important reasons for having a dental crown include are as follows;
A cracked, broken, or chipped tooth
For that kind of case, crown dentistry is strongly suggested since they prevent infections from setting inside and prevent further breakage.
Badly Decayed Tooth
In severe decays, the infected teeth affect neighboring teeth and spread across the mouth. The crowns can also provide quick and effective solitons for that kind of problem.
For Large Fillings and Root Canal Treatment
Large fillings in the teeth are in danger of falling out, crown restoration can provide an ideal solution by giving more strength to the teeth for such cases.
To Cover Misshapen or Severely Stained Teeth
Because of their aesthetically pleasing appearance, they are also preferred for misaligned or heavily stained teeth.   
To Cover A Dental Implant  
Crowns are dental products that cover the tooth and can also be used on dental implants by adhering or screwing.
Difference Between Veneers and Dental Crowns
Crown and veneers are two important procedures that are indispensable for dental treatments. There are, of course, important differences between these two treatments. The type of material used in these treatments also plays an important role in the main target of these treatments.
Crowns have a thick structure as they cover the entire tooth, and an average of 2 mm trimming is required from the tooth surface to attach them to the tooth. Veneers, on the other hand, are much thinner as they are generally preferred for aesthetic purposes such as tooth stains, discoloration, or minor dental disorders. Only 0.3 mm of trimming is sufficient for a porcelain veneer to provide sound bonding to the tooth.
How Much Is A Dental Crown?
Dental crown cost can vary by almost 2 times depending on the crown used. In this respect, when reviewing the cost of a dental crowns, the material and the crown types should be taken into account. Here are the most commonly used crown types and prices;
How Long Do Dental Crowns Last?
Crowns are not designed for aesthetic purposes like veneers; their main target is to protect the teeth from external effects and to give them a more solid structure. Therefore, their average lifespan is generally over 20 years, and with careful and attentive care, they can survive up to 25-30 years.
In addition to proper dental care, patients should also take precautions against teeth grinding to extend the life of crowns and should avoid biting hard candies or hard foods.
How Long Does It Take to Make A Dental Crown?
It typically takes two visits to get a dental crown. Root canal or cleaning and filling of the decayed tooth is performed at the first visit, and an impression is taken of the tooth using a casting material put into a dental tray. Then, the dentist waits a while to harden the cast material and remove it to send to a laboratory. 
Now, thanks to computer-aided technologies, the production of permanent crowns can be done so quickly without the need to wait too long. Temporary crowns are attached to the patient on the second visit. After the production of the permanent crowns is completed, the patient is called to wear the permanent crowns and get his permanent crowns.
Types of Dental Crown
Dental crowns can be produced from 5 different types of materials and are pided into 5 distinct groups according to their production techniques.
1. Gold Crowns
They are generally used for posterior (back) regions. The main reason for their preference is that they cause less damage to the teeth' surface and are more durable compared to other crowns. The biggest frustrations for these tooth crowns are they are aesthetically far from natural tooth color and may cause allergies in some patients.
2. Porcelain Crowns
Porcelain crowns provide the closest appearance to the tooth color and do not contain metal or toxic substances; therefore do not cause any side effects in the mouth. Porcelain crowns are not as strong as metal crowns and require good maintenance. They are also not recommended for patients with teeth grinding habits.
3. Porcelain Fused to Metal Crowns
Besides being affordable, they can last a very long time. It has been observed that they can last up to 50 years. After treatment, they may form a gray shade on the gums due to gingival recession. In addition, they are not transparent enough because of the metal parts, so they may not fully match the neighboring tooth colors.
4. Zirconia Crowns
Zirconia crowns are more durable than porcelain crowns, and they have a 20% longer survival time compared to porcelain crowns on average. Thanks to the white and transparent structure of zirconia, the desired aesthetic appearance is achieved with these crowns.
Compared to porcelain crowns, their application requires more dental skills because of the hard structure of zirconia. Zirconia tooth crowns need a little more restoration than porcelain crowns, which is their the most important disadvantage.
5. Emax Crowns
Emax crowns are among the most expensive crowns; they are produced by strengthening porcelain crowns with lithium disilicate. Because of their thin structure, they have high-level light transmittance capacity, and applying Emax crowns requires less restoration on the teeth. They are mostly applied, especially in front teeth, to achieve the best desired aesthetic appearance.
Benefits of Dental Crown
Dental crowns are counted among the most beneficial treatments for damaged teeth. The most important advantages of this treatment, which have many benefits and protect the tooth from harmful external effects, are as follows.
CROWNS HELP RELIEVE DISCOMFORT
Teeth undergoing filling or root canal treatment become more sensitive to heat and pressure. To get rid of these problems that disturb the patients, dental crowns play an essential role and prevent permanent damage to the tooth.
DENTAL CROWN PROCEDURE ARE SİMPLE
Dental crowns are known as complex and invasive treatments. However, this is not precisely the case. After the infected tooth is cleaned and made healthy, the crown is prepared by taking necessary tooth measurements. At the next appointment, the prepared crown is fixed on the tooth.
CROWNS CAN RESTORE THE APPEARANCE OF TEETH
Although dental crowns are designed as a complementary treatment for damaged or decayed teeth, they contribute significantly to the patient's smile design. They are very effective in sealing discoloration, misshapen, chips, cracks, and fractures on the teeth.
LAST FOR A LONG TIME
Dental crowns cover the entire tooth and receive maximum support from the tooth. In addition, they are designed in a thickness that can withstand all kinds of outside impacts and pressure. So they can last up to 30 years or more with proper dental care.
Why Get Dental Crowns in Turkey? 
From Europe, the USA, and UK, many people are looking for affordable dental treatment abroad. Turkey, providing roughly seventy percent price advantage, is visited by more than 100,000 dental tourists every year. Due to the highly competitive dental tourism in Turkey, dental clinics make high-cost investments to attract more tourists. You can even find dental clinics here that are above European and American standards.
Education of Turkish Dentists
To become a dentist in Turkey, students must complete 5 to 6 years of hard training, including 2 years of internship. 
Does Turkish Dentist Speak English?
Communication with the patient is very important, especially in aesthetic dental treatments. For this reason, dentists must have a good level of English. Dental clinics in Turkey have dentists who speak English fluently to meet the needs of their foreign patients, and many Turkish dental clinics also provide consultation services in UK. You can also benefit from the free consultation service of Antlara Dental Office Located in London.
Dental clinics in Antalya have become very popular, especially among British and German tourists. Antalya, which has warm seas and magnificent beaches, is preferred by foreign tourists as there are direct flights from almost all over the world, and well-equipped high-tech clinics are located here. 
Why Are Dental Crowns Cheaper in Turkey?
Although Turkey has a very developed health infrastructure, it has become an affordable country not only in the field of dentistry but also in every field, as the Turkish Lira has devalued at least 5 times against foreign currencies in the last 5 years.
You can find high-quality dental treatments with affordable dental crowns cost in Turkey because the labor costs are so affordable, and the government has reduced the taxes to zero for the benefit of health tourism.
Dental Crowns FAQ
Dental Crowns - Antalya
If necessary, dental crowns can be removed and replaced with a new ones. However, sometimes it may not be possible to wear a new crown due to excessive tooth decay or trauma.
Minor damages on dental crowns can be easily repaired with composite resin or composite materials. However, fractures that are too large to be fixed with composite resin may need to be replaced with a new crown.
After crown treatment, patients may not get used to their new teeth for 2 or 3 weeks and may feel the new crown bulkier. If you still don't feel comfortable after that period, it is better to have your crown checked by your dentist.
Improper attachment on a filling or root canal treatment may leave a room where food debris can get stuck.
The most important points that you should pay attention to for proper dental crown maintenance are as follows;
You should avoid tough and sticky foods,
You should continue to brush and floss as you would do with your regular teeth.
You should use the night guard recommended by your dentist, if you have grinding habits.
You should have regular checkups with your dentist.