While relaxing on tropical beaches, you can get more than a holiday. Dental holidays enable patients in countries with high dental fees to receive quality and affordable treatment. Amidst the forests, orange azure waters, and plenty of oxygen, Antalya is a top-rated destination for dental holidays in Turkey among European tourists.
With the concentration of dental clinics in Antalya, which are designed to provide patients with better quality care, Antalya has become the center for many dental procedures. Cosmetic dentistry and dental implant holiday are among Antalya's most popular dental treatments.
What is Dental Holiday?
The term dental holiday refers to the practice of receiving dental treatment in another country. The high cost of health services and long waiting times in some countries are the main reasons for dental tourism's emergence.
Carequest data shows that 76 million Americans lack dental insurance, while private insurance coverage is much less among the elderly who need dental care most. Perhaps this is due to insurance companies' cost policies, but the dental holiday is greatly impacted by these policies.
Moreover, since insurance companies don't cover aesthetic treatments, patients prefer countries that offer more affordable treatments. There are over ten million dental tourists worldwide today. Considering this rapid development, dental treatment abroad requires comprehensive research.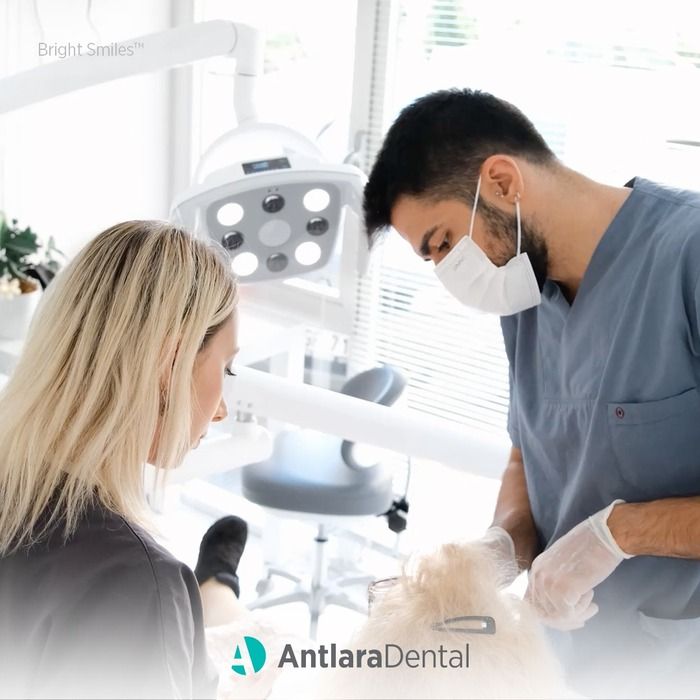 Which Country is Best for Dental Holiday?
Especially after 2010, when social media took off, dental tourism has grown rapidly. Many American and Canadian patients choose to receive their dental care from Mexico's low dental fees. Thailand and India have also realized dental tourism's value and expanded their dental tourism clinics in Asia.
With more than 40,000 dentists and advanced dental clinics, Turkey offers significant advantages to European and Russian dental tourists. One of these advantages is low dental prices.
Turkey offers the most affordable dental treatment prices. In Turkey, the cost of living, training, dentist fees, and clinic operations are very low compared with European countries. Also, cheap labor, currency exchange rates, and the government's no-tax policy on dental treatments make prices even lower.
In cities with a growing dental tourism industry, clinics and dentists can provide better quality service since they treat patients with similar expectations. For example, a dentist who regularly treats young British and German patients has a different perspective than one who only treats locals.
The high aesthetic expectations of patients have caused dentists to focus on less invasive yet still more effective treatments, even if they adhere to the same treatment methods.
Why Visit a Dentist in Turkey?
According to USHAŞ health tourism data, over one million patients choose Turkey as their health treatment destination every year. Dental treatments make up one of the largest shares of this number. The dental holiday in Turkey has experienced an annual increase of over 25%. It represents the satisfaction of patients with Turkish dental treatments.
There are high-quality clinics in Antalya and Istanbul, especially in the field of dental tourism in Turkey. In these clinics, European patients are able to communicate with dentists in their native language or in English.
In addition to having experienced dentists, these clinics also offer state-of-the-art technology. For example, in a quality dental clinic in Turkey, you may see these devices.
Microscopic diagnostic devices.
Laser treatment tools.
In-house laboratory facilities and
CAD-CAM technologies
As a Turkish dental practice serving European patients since 2005, Antlara Dental is staffed with dentists with over 20 years of experience in cosmetic dentistry, orthodontics, and periodontics. There is everything you would expect from a modern dental hospital in our clinic, from technological equipment and tools to staff and materials.
Which Dental Treatments Can You Get in Turkey?
Antlara Dental provides all kinds of orthodontic, periodontic, aesthetic, and hygiene dental treatments. Hollywood Smile, All-on-four, and veneer treatments are our most popular treatments. Among the dental treatments we offer at our clinic are;
E-max Veneers
Zirconium Veneers
Laminate Veneers
Teeth Whitening
Composite Bonding
Orthodontics Treatments;
Gum Disease
Root Canal Treatment
Our Services and Dental Holiday Packages
At Antlara Dental we view the entire treatment process as part of dental treatment and assist our patients in all matters after the first meeting;
Transfer:
Upon arrival at the airport, we transport our patients to their hotels and assist them in transporting them between the clinic and the hotel. It is important for us that our patients feel that we are with them in all their problems. Generally, after the treatment, we help our patients reach their hotels with the effect of local anesthesia, so they don't have trouble getting home.
Accommodation:
We help our patients find quality hotels near our clinic, which are clean and high-quality unless otherwise requested. While Antalya offers unlimited opportunities in this regard, many of our patients prefer us to make hotel reservations on their behalf.
Dental Holiday Packages
Besides providing our patients with transfer and accommodation assistance, we also ensure the quality of their treatments by including extra services in our dental holiday packages in Turkey.
To learn more all about our dental holiday packages visit; contact