Does your smile clash with your good looks? Then; take control of your dental fate.
Come to Antlara Dental Clinic, your top choice for dental tourism in Antalya, Turkey. We specialize in providing international patients with exceptional dental care and a unique tourism experience that combines quality dental treatment with the beauty and culture of Antalya.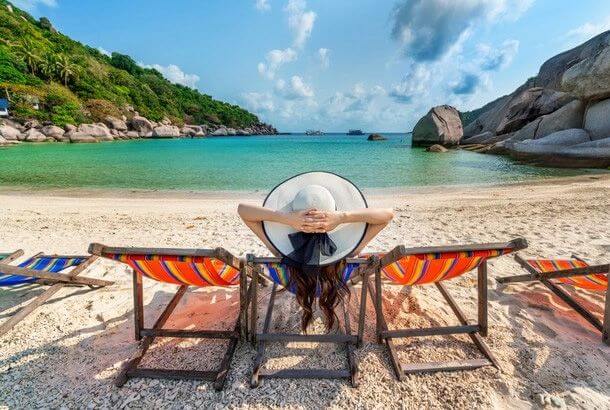 At Antlara Dental Clinic, we believe that dental procedures shouldn't take away from your ability to enjoy life. That's why we offer world-class treatment that allows you to get back to enjoying all that Antalya has to offer in no time. With our personalized treatment plans and state-of-the-art facility, you can confidently showcase your brand-new smile to the world and create cherished memories while saving time and money for the good stuff. At Antlara Dental Clinic, we're here to simplify your dental experience so that your life doesn't have to be complicated.
Contact us today to make an appointment and get started on your journey to a healthier, more confident smile.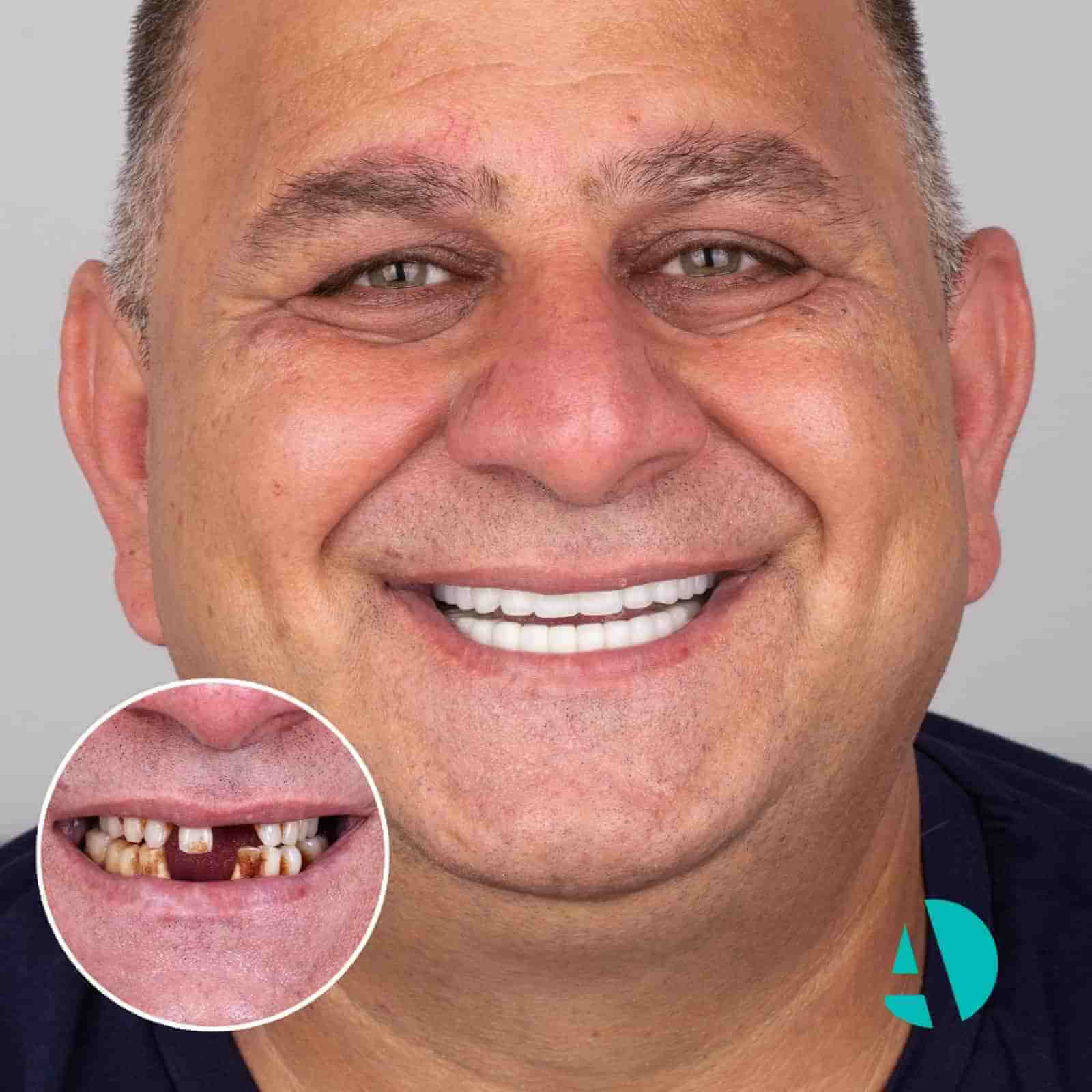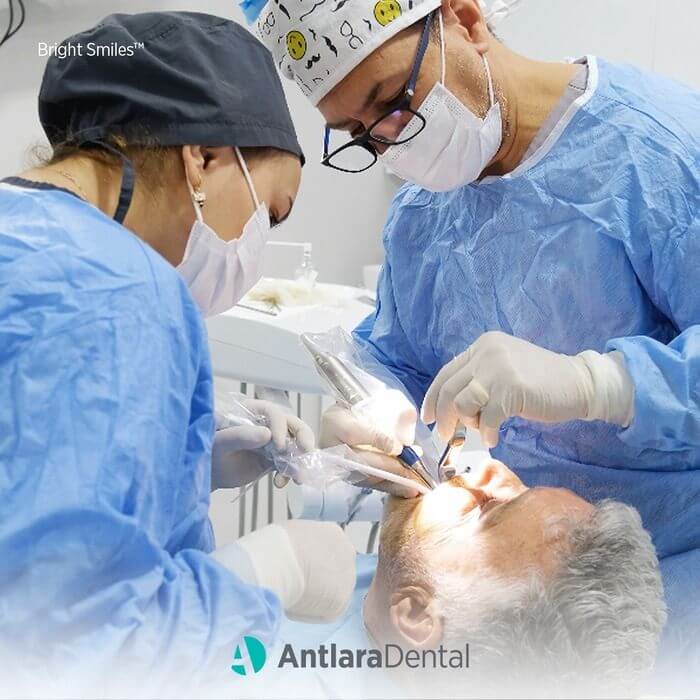 At Antlara Dental Clinic, we are committed to providing our international patients with exceptional dental care and a seamless dental tourism experience. We offer a wide range of dental services, from routine check-ups and cleanings to complex restorative procedures and cosmetic treatments. Our state-of-the-art facility is equipped with the latest equipment, and we use only the highest-quality materials and products to ensure the best possible outcomes for our patients. Our team of experienced dentists and staff are fluent in English, Russian, German, French, and Arabic. We use the latest technology and techniques to ensure that our patients receive the highest standard of care.
We understand that traveling for dental treatment can be a significant investment, which is why we offer competitive pricing and customized treatment plans to meet your unique needs and budget. We also provide personalized recommendations for local hotels and transportation options to make your visit to Antalya as convenient and enjoyable as possible.
When you're not receiving treatment, you can explore the beauty and culture of Antalya on your own, from its pristine beaches and majestic mountains to its rich history and vibrant nightlife. Our team can provide you with information on local attractions and activities to help you make the most of your time in Antalya.
Contact us today to learn more about our dental tourism services and to schedule your appointment.
What is Dental Tourism?
For centuries, people around the world have sought out alternative medical treatments in foreign lands. Initially, it was mainly affluent residents of less developed nations who traveled to more advanced countries to access superior healthcare that was unavailable in their homelands. That was the conventional form of health tourism and its offshoot, dental tourism. However, since the 1980s, there has been a reversal in this trend, underlying that residents of industrialized countries have been seeking treatments in far-off lands. Over time word-of-mouth recommendations had encouraged other patients, and multitudes of them began traveling to foreign countries with the hope of getting their smiles back. Since the early 2000s, their collective effort has created its own massive industry, with patients from all over the world flocking to destinations like Antalya, Turkey, to access affordable, world-class dental care and enjoy a memorable travel experience. Welcome the age of dental tourism.
Is Dental Tourism Safe?
The global market for dental tourism is on the rise, with a size of $6.7 billion in 2022 and projected growth to $10.9 billion in 2023 and $43.9 billion in 2030. However, this growth is not a guarantee of a successful treatment for every patient, and you should do your due diligence before booking a trip for dental treatment abroad. If you are considering dental tourism in Turkey or any other destination, it's crucial to keep the following points in mind:
Check the medical team's certifications and qualifications.
Request more information and explanation about your treatment plan.
Review the clinic's facilities and quality standards to ensure they match your requirements.
Be wary of any red flags during your research or consultation with a dental clinic, such as:
Be cautious of any dental clinic that employs pushy sales tactics or pressure to make a quick decision, without providing adequate time to consider your options.
Beware of any dental clinic that fails to mention potential side effects or complications, and doesn't provide enough information about aftercare procedures.
Be wary of any dental clinic that doesn't provide clear and transparent information about their qualifications, certifications, or licenses, or has outdated or poorly maintained equipment.
Beware of any dental clinic that doesn't follow standard safety protocols or hygiene practices, or doesn't have clear policies on patient privacy or confidentiality.
Be cautious of any dental clinic that doesn't allow you to ask questions or seek clarification about your treatment plan, or pressures you into undergoing unnecessary or expensive treatments.
What to look for when choosing a dental clinic in Turkey:
How long they have been treating foreign patients.
How big the clinic's capacity.
How many articles have been written on them in foreign media.
Customer satisfaction.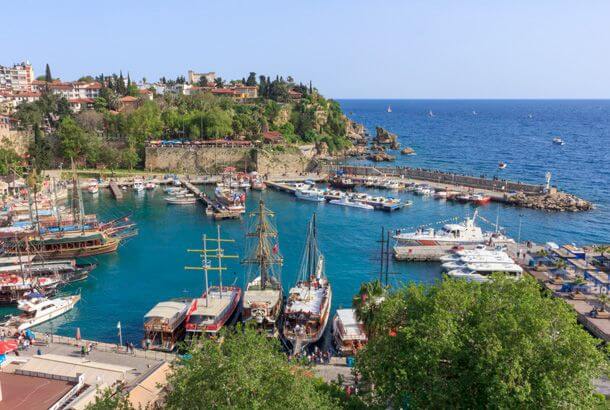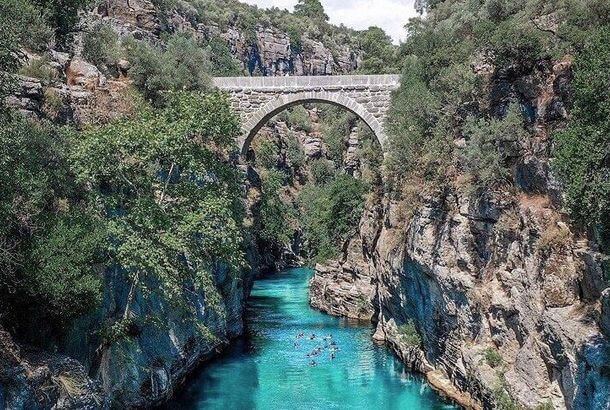 The Pros and Cons of Dental Implant Tourism
In many European countries and the U.S., dental coverage is often lost due to higher insurance costs after retirement when dental problems begin to surface. Astronomic dental prices can be a challenge for many people. Fortunately, dental tourism provides affordable, high quality treatment options for the patients of such countries.
In Turkey, dental tourism offers great opportunities for both older adults and the younger generation. The younger generation, for instance, is drawn to new smile trends on social media, which encourage them to seek cheaper treatment opportunities abroad.
While dental tourism has its benefits, such as lower cost, shorter waiting time, superior quality treatment, latest technology, and availability of tourist attractions, it also has some drawbacks. These downsides include long-distance travel and possible complications from dental treatment.
What are the Best Countries for Dental Tourism?
Go where hospitality is sacred.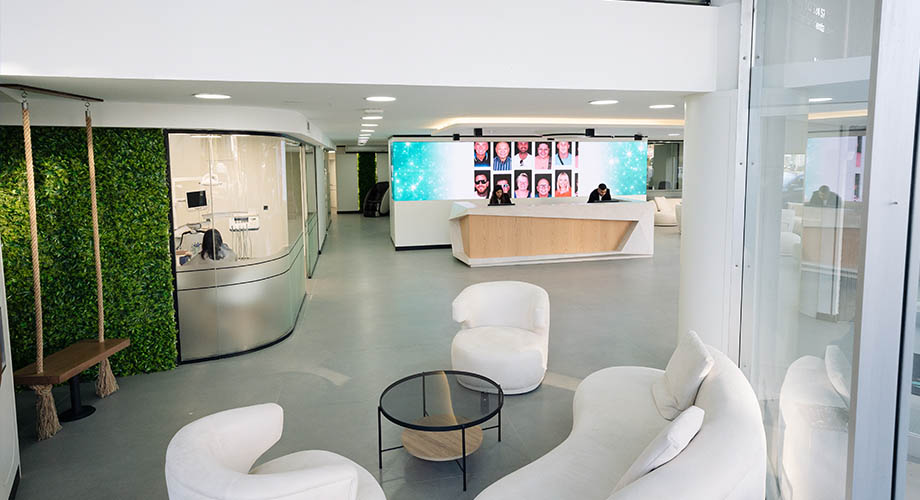 Creating a definitive and accurate list of the best countries for dental tourism is challenging because the topic is too broad. However, some countries are at the top of the list, such as Mexico, India, Hungary, Turkey, Poland, Thailand, and others. Interestingly, the countries that do not view dental tourism as a source of income can provide the highest quality of service because of their strong health infrastructure and educational capabilities. Additionally, countries like Hungary, Mexico, and Poland earn almost 80% of their health tourism revenue from dental tourism, turning high dental treatment costs in Europe and America into an opportunity.
Is Turkey a recommended destination for dental implants?
Turkey: TRanscontinental, TRanscultural, TRanshistorical.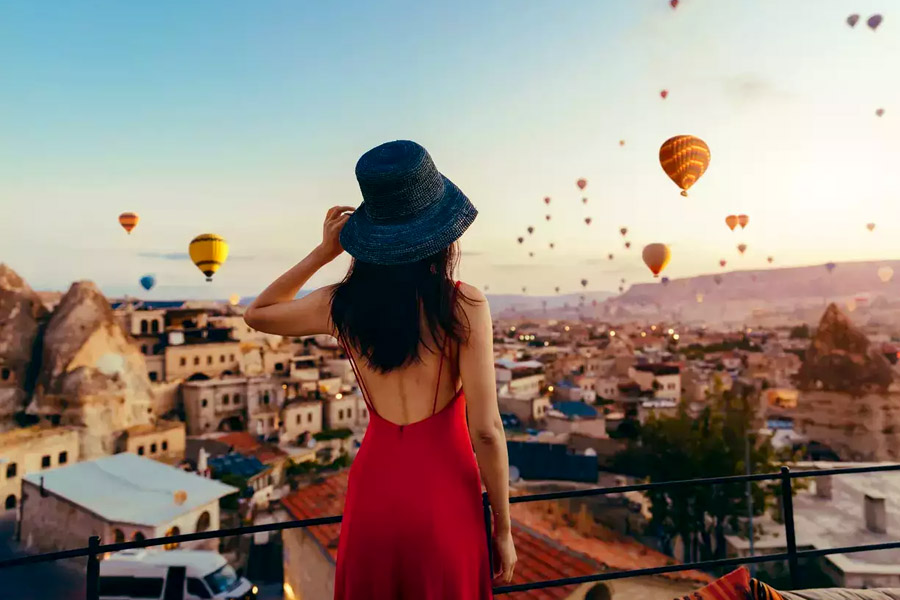 Turkey's excellence in healthcare services and affordability have made it a top destination for medical tourism. Dental treatments, in particular, account for 20% of the nearly one million health services provided to foreign patients each year, making dental tourism a crucial factor in Turkey's success in the health sector. With a growth rate higher than the global average, Turkey's dental tourism industry continues to thrive, attracting patients seeking advanced orthodontic treatments and solutions for complications like bone grafting and sinus lifting required for dental implant procedures.
How much does dental work cost in Turkey?
Smile big, pay small.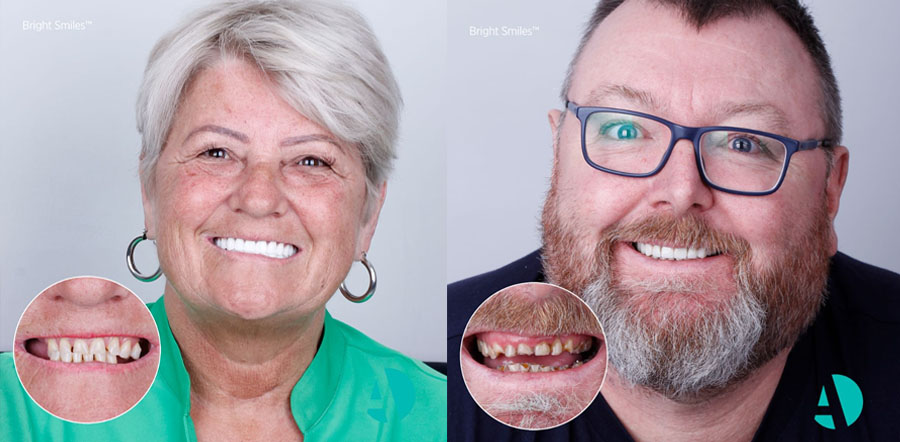 Turkey's dental services have become synonymous with affordability and quality. The devaluation of Turkish Lira in recent times has had a significant impact on the cost of dental treatments, positioning Turkey as one of the most reasonable destinations for dental services globally. A dental implant application that may cost between $1000 and $3500 in the US or UK will only set you back between $400 and $900 in Turkey. Meanwhile, porcelain veneers, which typically cost between $500 to $1300 in European countries, are available in Turkey for a modest $200 to $500.
Where to go for dental tourism in Turkey?
Implant City of the Mediterranean: Antalya.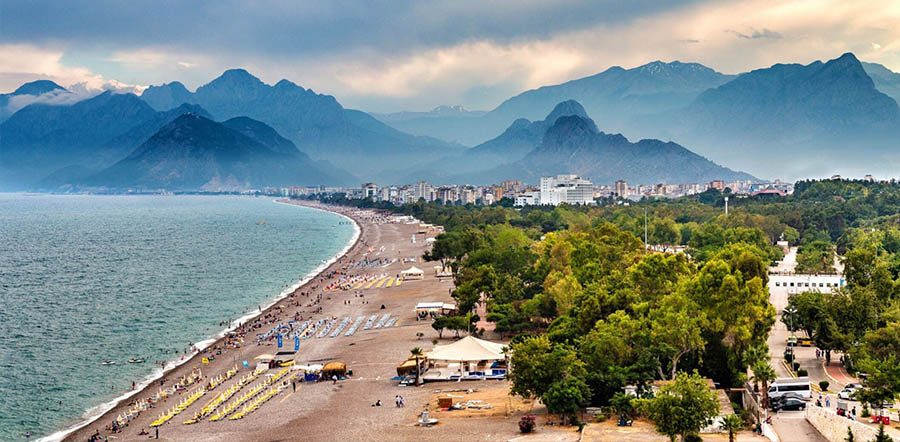 When it comes to dental tourism in Turkey, Istanbul and Antalya reign supreme. While Istanbul may be the largest metropolis in the country, Antalya boasts a unique appeal for those seeking a dental treatment combined with a dreamy holiday on Turkey's most picturesque coastline. Welcoming a record-breaking 13 million foreign visitors in 2022, Antalya has consistently made it to the top ten most visited cities in the world for the past decade.
Antalya offers a classic combination of sea, Sun, and sand with breathtaking mountains in the background. Its ancient cities are hidden among forests that provide oxygen-rich air for a refreshing atmosphere. With its rich history, stunning landscape, bustling nightlife, exquisite hotels and restaurants, Antalya is a city worth exploring.
Adventure seekers will find a wide range of activities in Antalya. To give you an idea of the vast spectrum available, you could ski up in the mountains, go rafting in the river, and even swim or bask in the sun on the beach, all in the same day. Whether you're looking for relaxation or excitement, Antalya has something for everyone.
Where exactly are we in the Implant City?
Located in the opulent neighborhood of Lara, our EU-standard clinic boasts a prime location just a couple of blocks away from the sparkling turquoise waters of the Mediterranean, and a few kilometers away from the golden sand beaches. Situated only 50 meters away, Antalya's largest and most popular shopping center, Terracity Mall, offers our patients the ultimate in convenience. The port is also easily accessible, only a 15-minute drive from our location. With its stylish aesthetics and stunning surroundings, our clinic offers a unique and luxurious dental holiday experience.
How does dental tourism work with Antlara?
For certain patients, the mere act of visiting a dentist can be a stressful experience. Under such circumstances, seeking dental care in a foreign country can understandably induce significant apprehension and fear.
To ensure a strong foundation of trust, we engage in transparent communication with our patients, providing them with regular updates on the procedures we perform and the rationale behind them. Our doctors and team strive to empower our patients by educating them on the full range of options available and working collaboratively with them to develop a personalized treatment plan tailored to their specific needs.
As an expression of this empathy, we invite you to embark on a virtual dental getaway with us.
Imagine you've got a few teeth missing and you're thinking about getting implants like all-on-6. If you fill out patient form, here's what typically happens:
Pre-treatment:
One of our reps will give you a call and ask you to snap a pic of your mouth using your phone's camera. While an x-ray would be more precise, the pic will help our specialists make a more accurate quote and treatment plan for you. So, it's best to get an x-ray if possible (we can help you arrange this if you're in the UK and reimburse you up to £50.)
Once you've sent us your pic or x-ray, we'll create a custom treatment plan and quote for you.
If you decide to go ahead with the treatment, you'll need to get your visa (if necessary) and book your trip. To get accommodation through us, your treatment package should include at least 8 implants or 10+10 zirconium or 12+12 porcelain veneers. However, we can still help you find a place to stay even if your plan does not meet the minimum requirement.
The last step before treatment begins is sending us a jpeg of your flight ticket and hotel reservation. This is also when we'll ask for your contact information (full name and address.) If you're bringing someone with you, let us know at this point. And don't worry –we won't ask for your credit card details at any point during the process. *All pre-treatment communication is done via Whatsapp.
Treatment:
Before you leave, our transportation coordinator will be in touch to make sure everything runs smoothly. When you arrive in Antalya, one of our transfer cars will pick you up and take you to your hotel. We recommend arriving in the evening so you have time to rest before your treatment.
The next day, we'll take you to our clinic in Lara for a face-to-face consultation with Dr. Güler, our head dentist. Depending on the structure of your teeth or bone tissue density, your treatment plan may change at this point. You'll also get to choose the size, style and shade of your implant(s)
Implants usually require two visits (three if you need a sinus lift.) If you do need a sinus lift, don't worry; it's a simple procedure done under local anesthesia. Here's what your visits would look like:

If you need sinus lift, the surgery will be performed. It takes up to six months to fully recover from this. Once you're recovered, you'll come back for a second visit.
On your second visit, expect to spend around five days with us. We'll place the implants on the first day and take a digital scan of your mouth to create temporary prosthetic teeth if any of your missing teeth are in the aesthetic zone. You'll get to try out your temporary teeth on the second day, but it may take a couple of days to make small adjustments to ensure a perfect fit. Then, you'll wait 3-6 months (or longer depending on your case) for the implants to osseointgerate –to naturally bond with your jawbone.
Once the implants osseointegrate, you'll come back for your final visit. During this visit, we'll place permanent bridges and crowns, which can take up to seven days.
As you can see, it is a straightforward and easy process with a very high success rate of around 95%. We also want to let you know that a common side-effect of having dental treatment in our beautiful city of Antalya is having one of the best vacations of your life. So, we welcome you in advance, should you decide to go the extra mile for your smile :)