What is e-max veneers treatment? What should be considered for laminate veneers dental treatment in Turkey, Antalya?
Emax Veneers are the most long-lasting veneers among the porcelain veneers family. However, the most important reason for their preference is to get a good aesthetic appearance that doesn't cause too much damage to the tooth surface, rather than their strength. In Turkey, you can find experienced and well-trained dental experts in Antlara Dental above European standards.
Emax Veneers; Cost, Procedure, and Benefits
Emax is a type of veneer produced by the strengthening of porcelain components with lithium disilicate or other materials. Being two times more powerful than porcelain veneers, Emax veneers have the same aesthetic appearance supplied as porcelain veneers and don't require large restorations in the teeth.
In some types of Emax Veneers, 10% zirconium is mixed to obtain more robust results. Because they do not contain metal and are made of pure ceramics, the light transmittance is relatively high, and full imitation of the color of natural teeth can be achieved.
If you are looking for a first class
If you are looking for a first class dental service, look no further. The Antlara dental clinic is without doubt the best in Turkey. I did extensive research about dental implants before making my final decision to travel to Turkey for treatment.
Lisa Godden - 2021
Five Stars of course to Ziya!
Clinic manager Ziya Bekir is very friendly and it is super easy to arrange with him an appointment. The doctor Tolga Alp is very professional and nice.
Sandra Jelic - 2021
I came for a cleaning of my teeth.
I came for a cleaning of my teeth. The treatment was professional. Also the service desk downstairs was very good. awesome!
Marijke van Wierst - 2021
Free Appointment - E-max Veneers
You can make a free appointment below to have emax veneers in Antalya.
25+ years of dental treatment experience and professional patient services.
Free Appointment
What is E-Max Veneers?
Emax Veneers is a strengthened veneer consisting of porcelain components, which is preferred where aesthetic appearance is essential, but the tooth structure is strong enough. The Ivoclar Company developed Emax veneers in 2006. Thanks to the lithium disilicate used in the product content, different opacity values are achieved, and it is possible to obtain the desired natural tooth color.
In conventional porcelain veneers, the interior part of the veneers is coated with metal to produce stronger veneers, but in e max veneers, no metal content is used. Therefore, strong veneers are obtained without compromising the patient's aesthetically beautiful appearance. Emax veneers also do not cause a bad appearance, such as the accumulation of metal on the gums, which forms a gray shade.
Emax Veneers vs. Zirconia Veneers
Before explaining the difference between zirconium and Emax veneers, the difference between zirconium and zirconia should be well understood. Zirconium is a metal with a solid structure, similar to titanium, in its physical and chemical features. Zirconia, on the other hand, is a type of ceramic consisting of a combination of oxygen and zirconium. Zirconia is called ceramic steel due to its robust structure and is a biocompatible material.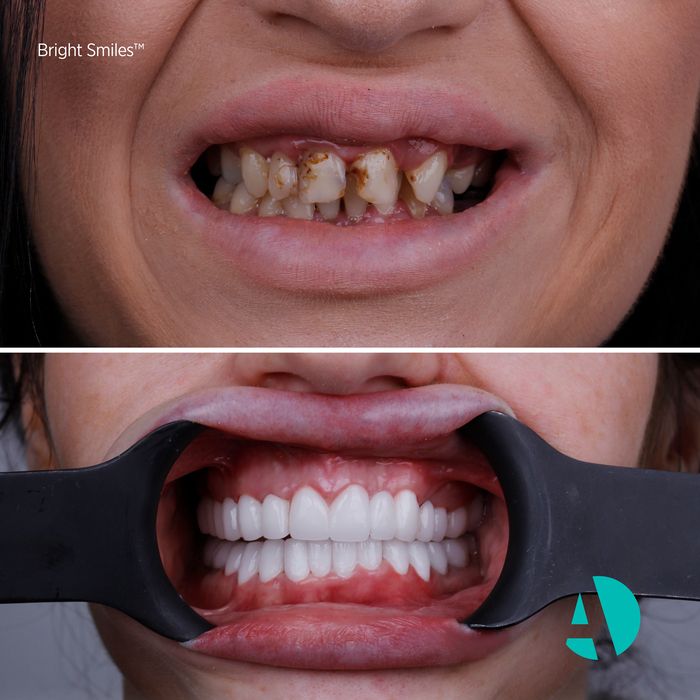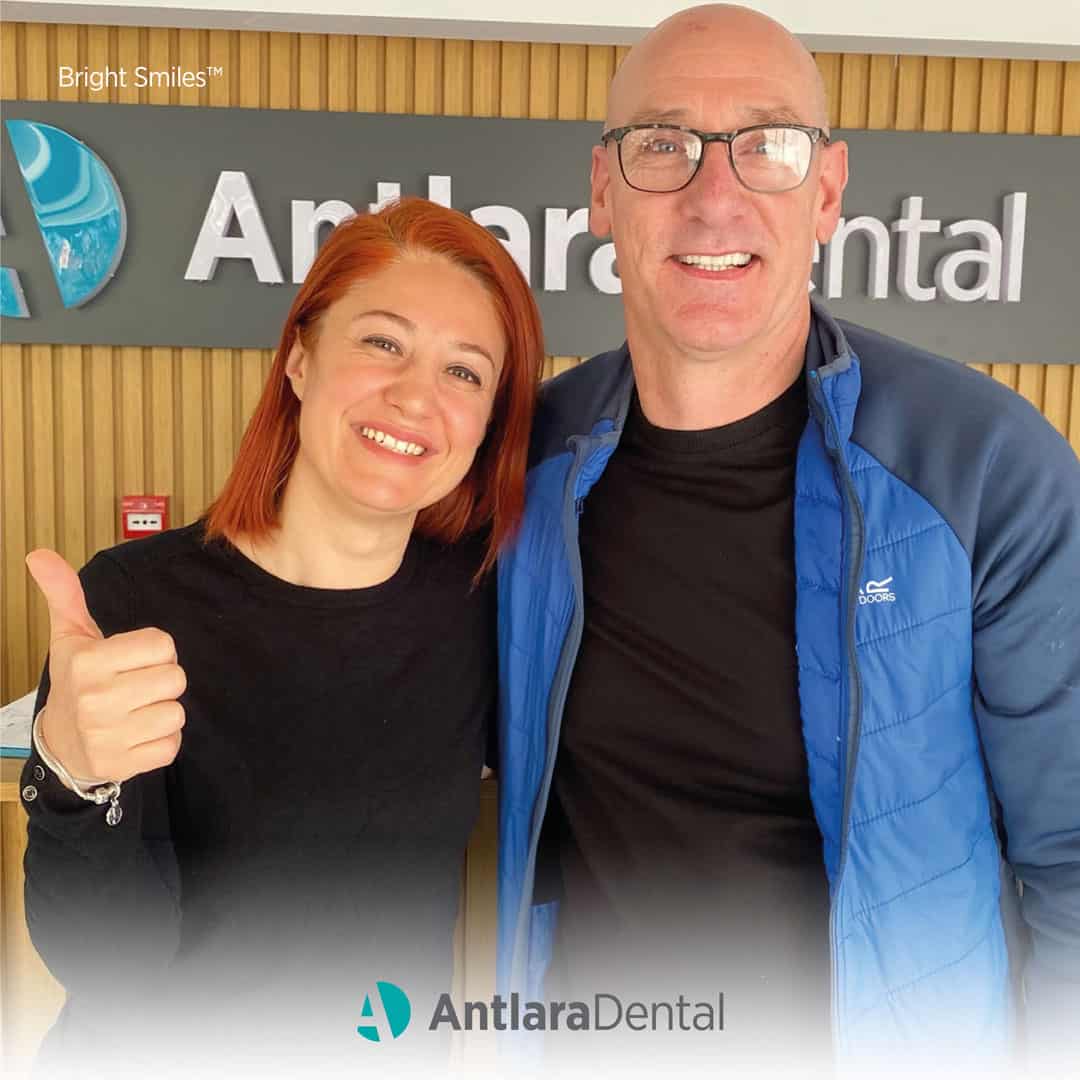 Although Zirconia veneers are strong materials, they may not always meet the desired aesthetic appearance and may require large-scale restorations on the teeth. For this reason, dentists prefer emax veneers where aesthetic appearance is at the forefront.
Below you can review the distinctions between these two veneers in detail.
E-Max Veneers
Zirconia Veneers
Manufacturer
Ivoclar Vivadent

3m Lava
Noble Biocare
Diadem
Ivoclar Vivadent

Materials
Lithium Disilicate
Yttrium-Zirconium (YZ)
Strength Values (According to ISO 6872)
360-400 Mpa (It may seem less than half of the zirconia strength but still enough to provide strog veneers.)
900-1100 Mpa
Advantages

Brightness and translucency
0.3 mm thicness which doesn't require big restoration in tooth enamel.

Provide better strength and up to %20 more lifespan.
Disadvatages
In the case of much darker teeth, they may not provide desired results.
It require 0.8-1.5 mm facial reduction on the tooth enamel
How much do Emax Veneers cost?
In addition to providing effective and long-term solutions, Emax veneers are applied without causing major scrapes on the teeth' surface. Now let's take a look at the emax veneers cost and the comparison of Emax Veneers Turkey price.
| | | | | |
| --- | --- | --- | --- | --- |
| | Turkey E-max Veneer Prices | UK E-max Veneer Prices | Europe E-max Veneer Prices | USA E-max Veneer Prices |
| Prices for single teeth | $180-$300 | £650-£950 | €600-€1000 | $850-$2000 |
| Prices for 6 teeth | $800-$1200 | £3600-£4000 | €3200-€4000 | $3500-$6500 |
| Prices for 8 teeth | $1000-$1500 | £4800-£5200 | €4000-€5200 | $5000-$8000 |
| Prices for 10 teeth | $2000-$2500 | £6000-£7000 | €5500-€7000 | $6500-$10000 |
| Prices for More than 10 teeth | $3000-$3500 | £10000-£12000 | €9000-€12000 | $12000-$18000 |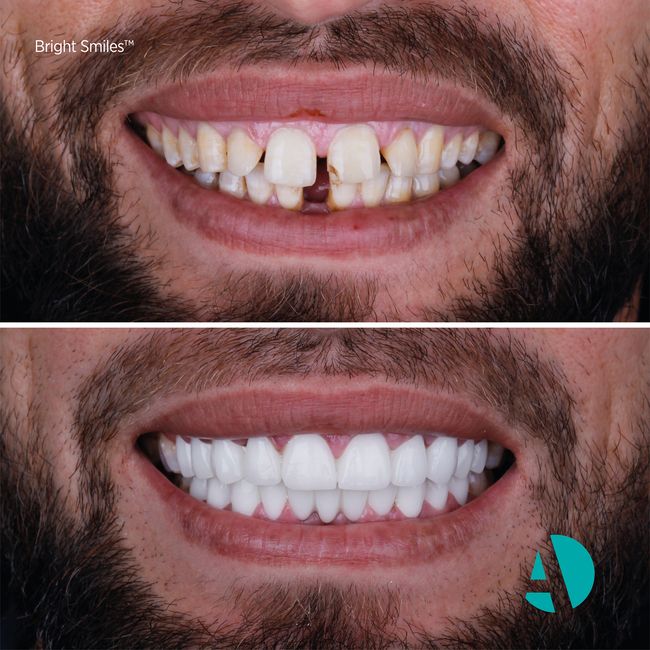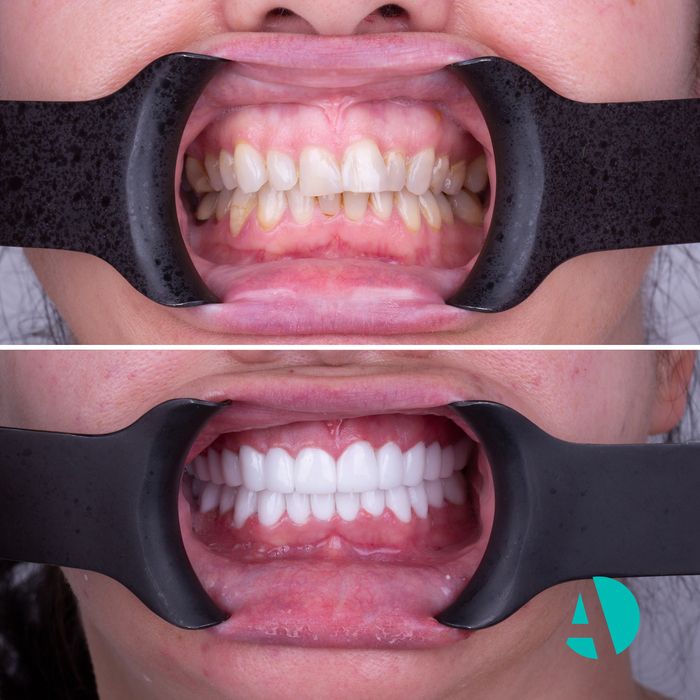 Who is the most suitable for Emax Veneers?
Emax veneers are the most long-lasting veneers among the porcelain veneers family. However, the most important reason for their preference is to get a good aesthetic appearance that doesn't cause too much damage to the tooth surface, rather than their strength.
For this reason, Emax veneers are mostly preferred on teeth that have not been treated, such as filling or root canal treatment, and that do not have fractures or cracks that reduce the resistance of the tooth. Emax veneers are usually applied to give an aesthetic appearance to the frontal teeth, but for the rear areas, zirconia veneers are preferred to provide maximum strength.
How long do Emax Veneers last?
Emax veneers have an average of 15 years of durability. This period can be extended a little more with the right oral care and dental cleaning, so achieving 20 years of lifespan is a realistic expectation with proper oral respect. However, 25 years of longevity expectation may not be practical. Here are the findings of a study that reveal the exact rate of the life span of E-max veneers.
%96: 5-6 years
%93: 10-12 years
%91: 11-13 years
%73: 15-17 years
How long does it take to get Emax Veneers?
Emax veneers can be completed with 2 to 3 appointments with the dentist. Since they require minimum restoration on the tooth surface and are quickly prepared using CAD and CAM technologies, treatment duration are shorter than other veneer types.
Before starting the treatment, the teeth measurements are taken, and the shapes of the Emax veneers are determined according to the smile design of the patient using the mock-up technique. At the first appointment, necessary preparations are made on the teeth, and temporary veneers are placed. A few days after the first visit, the patient's permanent veneers are prepared and attached to the teeth.
Founder of Antlara Dental, Dt. Dilek Aksu Guler is one of the pioneering names in aesthetic dentistry in Turkey. Having 18 years of experience in the dental field, she has attended many international conferences as a speaker. If you want to entrust your E-max veneer treatments to experienced hands, you can check our emax veneers before and after photos and videos and book a free consultation appointment.
How do you prepare for Emax Veneer?
To attach the veneers to the tooth surface, the frontal area of the tooth is trimmed at the same thickness level as the veneers. If the tooth has decayed areas, the dentist scrapes it more deeply to clean the decayed areas. For Emax veneers, 3 to 5 mm scraping is enough. That is almost the same thickness level with the shell of an egg.
How do they do Emax Veneers?
Emax veneers are crafted from block-porcelain in the laboratory. After producing these veneers, they are inpidually painted and polished to achieve the desired shade of tooth color. The laboratory phase requires pure artistry skills.
Emax Veneers Pros and Cons
Before deciding on E-max veneer treatment, it is worth knowing every aspect. Here are the most important emax veneers pros and cons.
Benefits of Emax Veneers;
They are considered to be the best porcelain veneers.
They have the tiny structure of 0,3 mm,
They offer slight translucency which maket them look like your regular teeth,
They require the least trimming on the tooth surface,
They contain no metal elements in it,
They are seen like your natural teeth, and it is hard to distinguish them from your natural teeth.
Disadvantages of Emax Veneers;
If the tooth surface is completely stained, bleaching should be applied before the treatment,
Due to their transparent structure, the tooth under the shell can sometimes be noticed,
Due to excessive cigarette consumption, darkening or staining may occur on the teeth surfaces,
It is not recommended to apply them on fillings, root canal treatments, and implants,
E-max veneer treatment is not recommended if the teeth are so damaged,
This treatment is an irreversible procedure as the teeth are scraped,
E-max veneers are strong veneers that can resist up to 400 Mpa, but they are weaker than zirconia veneers which can resist up to 1100 Mpa.
Emax Veneers Turkey
Turkey offers unique opportunities for patients who can't meet their needs because of increased prices and long-treatment procedures. In Turkey, patients can find experienced and well-trained dental experts and sophisticated dental clinics above European standards. British, German, and Russian tourists who prefer Turkey for their dental treatments say that the positive impressions shared on social media, holiday opportunities, and affordable prices play an important role in choosing Turkey.
Turkey's leading dental clinics prefer Antalya to provide better service to their patients and to turn their treatments into a holiday. You can benefit from the sophisticated dental clinics in this city, which is visited by nearly 10 million tourists every year.
E-Max Veneers FAQ
E-Max Veneers - Antalya
Do Emax Veneers Stain?
E-max veneers are highly resistant to staining. However, sometimes there may be stains at the junction of the veneer and the adhesive element. In this case, you should immediately consult your dentist. Stains on veneers can easily be resolved.
How do You Care for Emax Veneers?
Proper care of Emax veneers is a must to have a maximum lifespan. For a proper E-max veneer care you should;

Keep regular cleaning as your normal teeth,
Use a soft toothbrush and proper toothpaste recommended by your dental provider,
Don't bite hard objects,
Avoid grinding and clenching teeth, if in case, use protective dental wear to protect your E-max veneers.
How long do Emax Veneers stay white?
Emax veneers maintain whiteness for up to 10 to 15 years if the right care procedures are followed. After this time, they may need to be replaced or repaired.
Can Emax Veneers Fall Off?
Emax veneers can fall out just like other veneers. The main reasons for their falls are;

Age of veneers
Poor adhesive
Tooth decay
Teeth grinding
Lack of proper care
Can I remove Emax Veneers?
Emax veneers can be removed with professional equipment and require professional dental skills. However, now technology brings new techniques to solve this problem. The hard tissue laser device does the duty without damaging the teeth.