What is gun disease treatment? What should be considered about gum diseases treatment in dental prodecures in Antalya, Turkey?
Periodontitis is an inflammatory disease commonly known as gum disease. It is characterized by tooth loss and damage to supporting tissues (periodontal ligament, cementum, alveolar bone).
Periodontitis is caused by bacterial plaque and can be treated at home unless the situation has become extremely bad and needs professional intervention.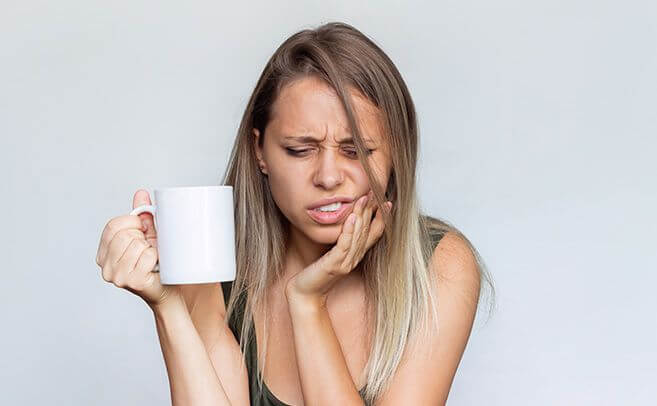 What is the Success Rate of Full Dental Implants?
Full mouth dental implant
treatments have a high success rate as well as being long-lasting treatments. Here are the detailed success rates of this treatment.
%97 success rate: over 5 years
%94 success rate: over 10 Years
%91 success rate: over 15 Years
Free Appointment - Gum Disease Treatment
You can make a free appointment below to have a gum disease treatment in Antalya.
25+ years of dental treatment experience and professional patient services.
Free Appointment
Gum Disease Treatment in Turkey
Gum diseases are insidious diseases, and in the initial stages, people do not care much about them. But the bill for this unawareness will be quite heavy. According to the report of the American CDC organization, the rates of periodontitis diseases caused by gum infection;
47.2% over 30
70.1% over 65
This striking study confirms another study that 70% of tooth loss in advanced ages is caused by diseases related to gingivitis.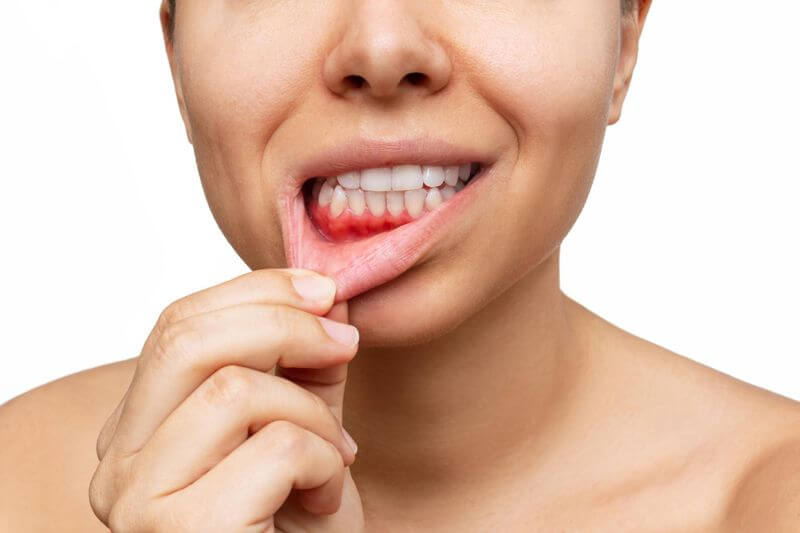 What Is Gum Disease?
Gum diseases first occur in the form of swelling and redness in the gums due to infection and bacterial formation. Not all gum diseases turn into periodontitis diseases.
In case of insufficient cleaning of teeth, a sticky film of bacteria and plaque emerges around the teeth. At the same time, plaque in the mouth spreads along the gums and hardens. Then it becomes quite hard to clean the gums.
The acid released by this sticky substance damages the enamel of the teeth and makes them unprotected against decay.
In more advanced stages, the gums recede, forming pockets. Bacterial formations occur again in these pockets. As the bacteria continue to spread in the mouth, the immune system fights against the bacteria, which causes swelling and bleeding in the gums.
How Do Dentists Fix Gum Disease?
Gum disease treatment begins with checking the bleeding level of the gums. The dentist then measures the depth of the gum by placing a dental probe at the junction of the teeth and the gum. If this depth is more than 4 mm, it indicates periodontitis diseases. For pockets deeper than 5mm, the patient will require a dental X-ray to see if there is bone loss.
Treatment of gum recession;
If the infection is not at an advanced level, the dentist thoroughly cleans the pockets around the teeth. If a tooth infection is developed, the dentist will clean the teeth using dental tools or a laser. If the disease is even more advanced, it is treated by flap gum surgery (pocket reduction), laser applications, or several complex periondontic treatments.
What Causes Gum Disease?
The most common gum disease causes plaque build-up on the teeth and gums. However, other reasons also increase the risk of gum diseases;
Plaque Buildup: Plaque is a thick layer of bacteria that forms on the gums and teeth. If they are diagnosed early, they can be prevented by simple methods.
Smoking: Smoking penetrates the cells in the gum tissues and triggers the gums to become more susceptible to infections.
Hormonal Shift for Females: As a result of hormonal fluctuations during pregnancy or menstruation, gum disease is more susceptible in this period. This is not mean that you will get gum disease while you are pregnant. Instead, its means that you should take extra precautions during these periods.
Medications: Drugs that cause dry mouth to prepare a suitable environment for the bacteria to spread more quickly in the mouth. In this respect, if you use such drugs, you should pay extra attention to oral hygiene.
Crooked Teeth: When your mouth is crowded, you are more likely to develop gum disease since misalignments create more spaces where plaque can build up.
Family History: Gum diseases can be caused by genetic reasons. Dentists consider these types of patients as riskier and treat them accordingly.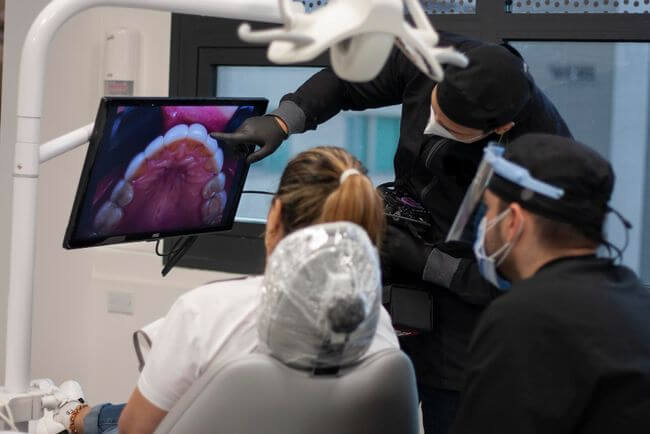 How Much Does Gum Disease Treatment Cost?
You can review the price table of different treatments performed within the scope of Gum Disease below.
Full Mouth Deep Cleaning Costs;
The USA : $600-$1200
UK : £350-£550
Turkey :$80-$150
Pocket Reduction;
The USA : $1000-$3000
UK : £850-£1500
Turkey : $150-$250
Gum Graft Cost (Single Tooth);
The USA : $600-$1200
UK : £450-£500
Turkey : $100-$150
How long does Gum Disease Treatment Take?
Treating teeth gum disease usually requires a few appointments with dentists according to the severity of the disease. In laser treatments, in case of advanced inflammations, a treatment consisting of 4 sessions is applied and completed in an average of 2 to 3 weeks.
At the end of the last stage, you can observe the gums are no longer red and swollen, and the loose teeth are better fixed to the jaw bone.
What Are Gum Disease Symptoms?
Check if you have gum disease. The gum disease symptoms include:
When you brush your teeth, floss, or eat hard foods, such as plums and apples, your gums bleed.
Your gums become swollen, red, and painful.
Bad and bad taste in the mouth.
Gum shrinking.
Teeth become loose.
Red patches in your mouth.
Lump in your mouth or on your lip.
Gum Disease Treatment Turkey
Here are the reasons why you choose Turkey, which is visited by more than one hundred thousand European and Russian dental patients every year;
Popular Practice for European Patients: Turkey has build-up a reputation across Europe for its dental success.
Excellent Care at Affordable Prices: Because of the high costs in some European countries, patients search for countries where they can find high-quality dental treatments at affordable prices. One of their essential destinations for dental tourism in Turkey.
Easily Accessible: You can reach Turkey with 3 hours of direct flights from almost everywhere in Europe.
Highly Trained Dentists: Dental education in Turkey is one of the most difficult ones in Europe, and Turkey has a deep background in modern dentistry.
State of the Art Technology: Because of rising dental tourism in Turkey, many clinics invest in the least technological equipment as well as high-qualified experienced dentists.
Holiday Opportunities: Antalya, the capital of tourism in Turkey, offers wonderful holiday opportunities for patients.
What Is the Gum Grafting Success Rate in Turkey?
Gum disease treatment in Turkey has over a 90% success rate. However, performing the treatment by a periodontist or cosmetic dentist will increase the success rate and make your gum more aesthetically and more harmonious with your teeth. At Antlara Dental, you can meet our dentists who have 20 years of experience in the field of cosmetic dentistry and periodontic.
Gum Diseases Gingival Bleeding - FAQ
Gum Diseases Gingival Bleeding - Antalya
Preventing periodontal disease is critical in preserving the natural dentition. Addressing the causes of gum disease and discussing them with your dentist will help prevent the onset, progression, and recurrence of periodontal disease.
Two important steps in the prevention of gingival diseases should be combined for life. These:
Ensuring regular and correct tooth brushing habits and optimum oral hygiene.
Tartar cleaning and gum care under the control of the dentist every 6 months.
In gum disease treatment, local anesthesia is applied, and almost no pain is felt during the treatment. In laser applications, the treatment process is faster and easier. Gum sensitivity may occur after treatment or sessions, but this sensitivity will disappear in a while.
Periodontal disease should be treated with professional care, and it is tough to achieve 100% success from home treatments. Especially if the hard plaques formed on the teeth and the bacteria that settle under the gum are not cleaned well, the infection will be returned quickly.
Gum diseases can be stopped with surgical intervention. However, it is usually not possible to eliminate the damage of gum diseases on the bones. But still, some improvements can be made with orthodontic treatments.
Gum disease treatments have over %90 success rates. However, they still have some complications that include;
The uneven gum line,
Bleeding,
Infection,
Swelling
Reaction to the sedation
It is an inflammatory disease characterized by the destruction of teeth and supporting tissues of the tooth (periodontal ligament, cementum, alveolar bone). Gingivitis progresses to the alveolar bone (jaw bone). The main cause of periodontitis is the bacterial plaque and can be treated mechanically.
However, genetic, environmental and systematic factors may also contribute to the development of the disease. Systemic factors include diabetes, cardiovascular diseases, epilepsy, down syndrome, AIDS, and blood diseases.
In addition to providing oral hygiene training and establishing correct brushing methods in our clinic, according to the prevalence and degree of gum disease:
Poor dental hygiene
Tobacco use
Genetic predisposition
Pregnancy and menopause
Chronic stress and poor diet
Diabetes and underlying medical issues
Medication
Detection (scaling cleaning)
Curettage (treatment of gum pockets in teeth due to gum disease)
Root surface straightening (tartar formed up to root surfaces due to gum disease, bacterial plaque elimination)
Gingival shift and flap operations (shifting the gingival recession in a single tooth with the healthy gingiva on the adjacent teeth, closing and correcting this area)
Free gingival graft-connective tissue placement (closure and correction of receding gums with connective tissue for functional and aesthetic purposes)
All treatments in the field of periodontology such as gingivectomy / gingivoplasty (treatment performed due to aesthetic and functional cutting or attachment of the gums) are performed.
Antlara Dental Clinic - Gum Disease Treatment Department
Periodontology
Periodontology is the main discipline that deals with the tissues surrounding the teeth, including inflammatory diseases and their treatment. It has an important place in protecting oral and dental health.
Gum Bleeding
The gums are red, swollen and shiny. Often, these symptoms are accompanied by bad breath, itching in the gums, bleeding sensation, and tooth sensitivity.
Pain Condition
There may be pain in the teeth but also there may not be. This is tricky as patients usually won't complain if there isn't pain but underneath the bacteria and infection of gum disease could be growing.