What is orthodontic treatment with metal braces? What should be considered about metal braces in dental prodecures in Antalya, Turkey?
It is no longer a problem for everyone from age 7 to 77 with irregular tooth structure. With the latest developments in o, treatment times are shortened, orthodontic treatments that do not last for years are terminated early, and patients can achieve aesthetic and pearly teeth early. In fact, orthodontic wires can be positioned behind your teeth in an area that is compatible with your tooth color or not visible from the outside.
Metal Braces Treatment in Turkey
Metal braces, also called traditional braces, are a fast, effective, and economical method that can be applied without damaging the teeth. Metal braces consist of 2 different parts. Metal wires and brackets. Orthodontists pass through a thin wire through the middle of the metal brackets and adjust the stiffness of the wire. The brackets are made of high-quality stainless steel and are unlikely to break.
What Are Metal Braces Used for?
In the event that metal braces teeth are not applied because of aesthetic concerns, the problems may progress to an advanced level and may require complex surgical interventions to be corrected. Here are the most prominent areas of use of metal braces;
Crooked teeth,
Tooth separation,
To the correction of disorders in the jaw structure,
Elimination of aesthetic problems in the structure of the mouth,
Termination of chewing problems,
Imbalances in the structure of the face and jaw,
Positioning of the teeth in front,
People with impaired chewing and speech functions,
Those who have problems such as cleft lip and palate,
For those who have difficulty closing their mouth,
Those who have jaw locks,
Those who hear sound from the jaw joints.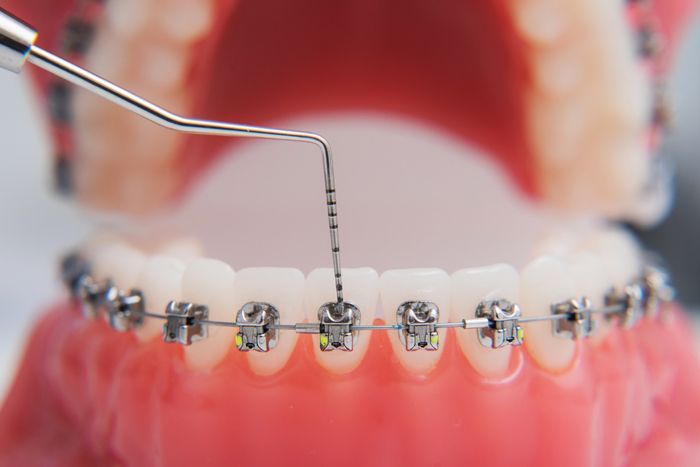 Steps of Metal Braces Treatment
The consult:
At this stage, the patient needs to explain all his discomforts to the dentist accurately. The orthodontist takes the X-ray film of the patient, and the treatment stage is started after the necessary evaluations are made.
Before treatment:
Before treatment, the dentist removes all bacteria and plaque formations in the mouth. If there are bruises in the mouth, they are treated first.
Treatment:
The patient's bite impression is taken, or the orthodontist performs an intraoral digital scan. Spacers are inserted to help prepare your mouth for braces.
Getting your braces:
After the infection is cleaned, the dentist thoroughly cleans the dental surfaces and applies bonding to the teeth. Once the bonding process is completed, the dentist uses a curing light to harden the bonding material. The orthodontist then runs an archwire through the braces and fastens it with ligature bands.
Your follow-up appointments
It will take you about 4-8 weeks to get used to your braces before your first appointment with your dentist. Once your braces are on, you'll have about 4-8 weeks to get used to them before your first follow-up appointment.
Routine "adjustments" are far more convenient than getting braces in the first place. Orthodontists will check your progress and possibly replace your old archwire and bands with new ones. If you want to change up your colors, now is a perfect time!
Your last appointment
Congratulations! You've achieved your goal! Your new, perfect smile is about to emerge after your last stage. The brackets will come off easily. Your orthodontist will remove the remnants of bonding material and polish the teeth in just 20 minutes.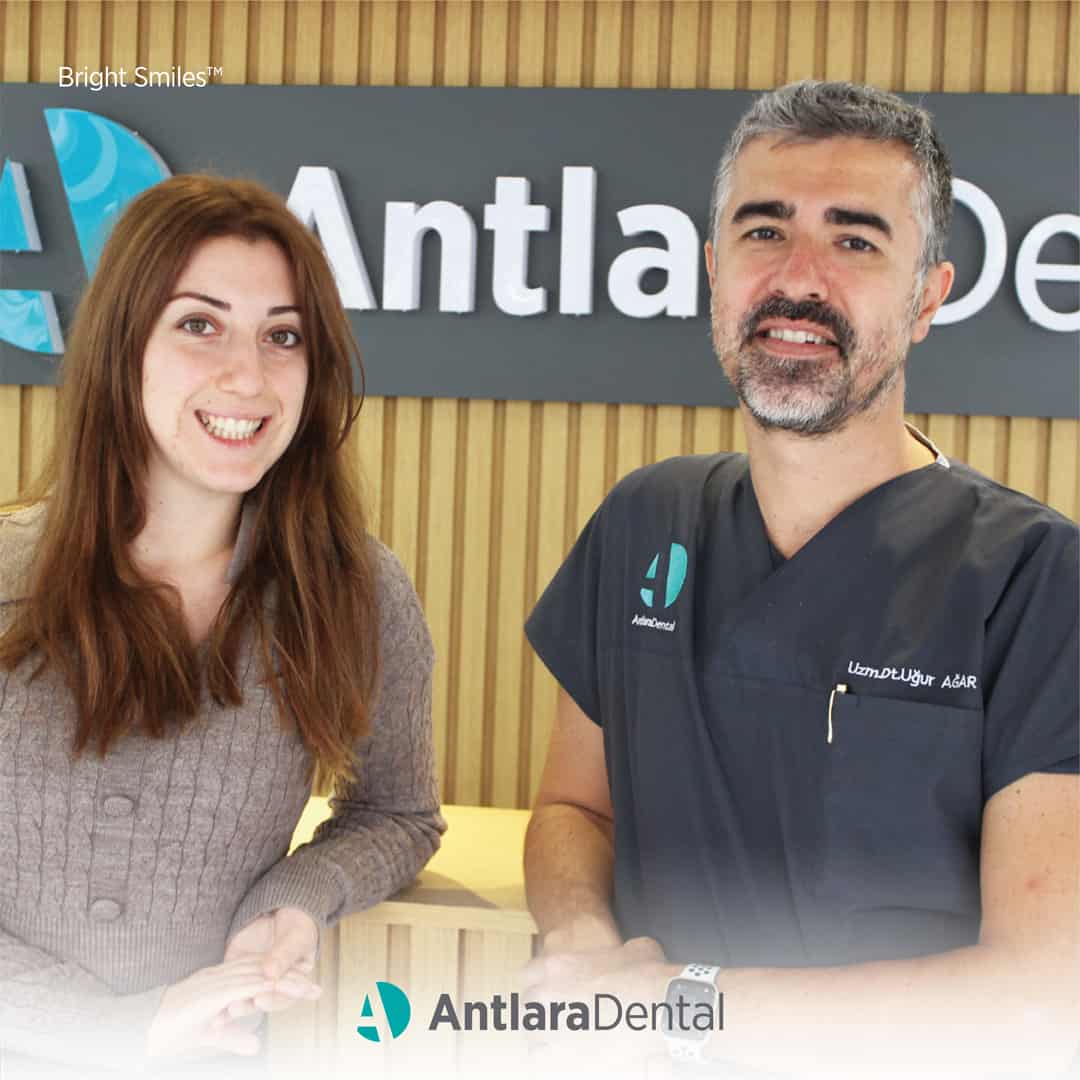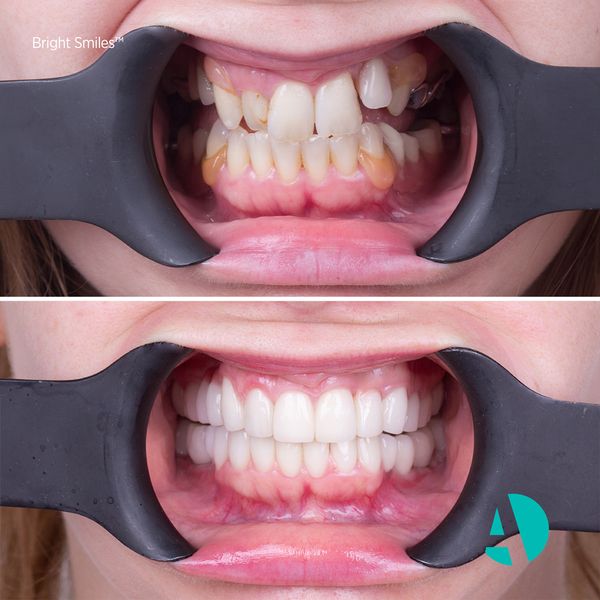 Metal or Ceramic Braces
Ceramic braces are mostly used for light corrections, while metal braces are preferred for larger corrections. If you are considering one of these braces options, you can see the differences below;
| | |
| --- | --- |
| Metal Braces | Ceramic Braces |
| More visible | Less visible |
| Allergic | Non allergic |
| Resistant to breakage | Nonresistant to breakage |
| Stain resistant | Can be stained and become visible |
| Cheaper | More expensive |
Is Invisalign Better than Metal Braces?
In invisalign treatments, you can achieve results a few months earlier than metal braces. In addition, Invisalign treatments are more advantageous than metal braces because they are less visible and removable in critical situations such as important events. Furthermore, Invisalign treatments cause less pain than metal braces.
How Many Days Are Metal Braces Put in Teeth?
Metal braces treatments are pided into three groups simple, moderate, and complex. In simple therapies, it is sufficient to wear your braces for about a year or less, while in moderate treatments, this period usually extends to two years. In complex metal braces treatments, they may need to be worn for up to 3 years.
What Are the Advantages and Disadvantages of Metal Braces?
To decide whether to have metal braces placed on your teeth, you should be aware of both the advantages and disadvantages. You will unlikely experience any problems if you don't have a sensitive mouth or gums.
Advantages of Metal Braces
Effective
Despite advances in dentistry, metal braces are still the most effective type.
Quick results
The patient can't interfere with metal braces and remove or lose them. This allows the dentist to reach the desired result of the treatment faster.
Affordable
Metal braces are the most affordable option in braces treatments. However, they are also as effective as or even more effective than other treatments.
Durable
Metal braces are made of stainless steel and are unlikely to break.
Free Appointment - Orthodontic Dental Treatment
You can make a free appointment below to have a orthodontic dental treatment in Antalya, Turkey.
25+ years of dental treatment experience and professional patient services.
Free Appointment
Disadvantages of Metal Braces
Decalcification
Decalcification means that the tissues are devoid of lime and appear in the form of white spots. To prevent decalcification, the teeth must be brushed regularly and adequately during the wearing period of braces.
Sores
Brackets can put pressure on the teeth and cause pain. Orthodontic wax is used to relieve this pain, which is especially felt at nights
Tightening or adjustments
Periodically, your metal braces will have to be tightened. This can be uncomfortable and cause soreness in your mouth for two to four days. You can't eat anything other than soft foods during this period.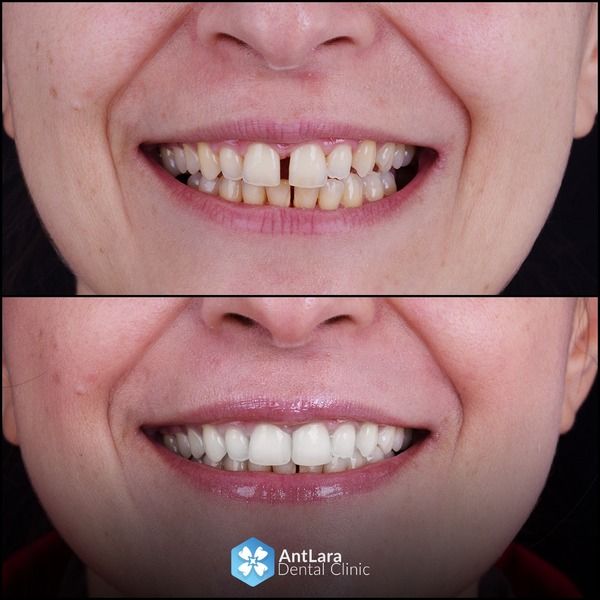 How long do metal braces take to straighten teeth?
The duration of treatment may vary according to everyone's biological status, age, and scope of treatment. In Turkey metal braces treatment can often be completed between 15 and 18 months. However, in some cases, results can be obtained within 6 months, while sometimes it can last up to 2 or even 3 years.
How much are metal braces?
An experienced orthodontist should perform metal braces treatments. Treatment fees may vary according to each country and clinic. Below you can review the average metal braces price in different countries.
| | |
| --- | --- |
| Country | Metal Braces Cost |
| USA | $3000 - $7000 |
| UK | £1500 - £3000 |
| Germany | €1200 - €2500 |
| Turkey | €750 - €1500 |
In most cases, dental treatments require extra fees because of unexpected treatment requirements, but for the cost of metal braces in Turkey, the extra costs will also be lower accordingly.
Why Get Metal Braces in Turkey?
Turkey has highly developed clinics in the dental field and well-trained, experienced dentists. As a result of Turkey's success in the dental field, it has become the fastest-growing country in dental tourism. By taking advantage of the affordable price advantages in Turkey, you can combine your dental treatment with a relaxing holiday in the calm waters of the Mediterranean.
Our philosophy at Antlara Dental is to provide our patients with premium dental health care. Teamwork is the key to achieving this while providing inpidualized treatments tailored to the needs of each patient. Furthermore, we strive to provide our patients with a professional and relaxed environment that enhances their positive experience.
Metal Braces - Frequently Asked Questions
Metal braces - Antalya, Turkey
The convenience and ease of use of the Invisalign system have made it the choice of over half a million people. In fact, Invisalign has been effective in giving hundreds of thousands of people amazing new smiles.
If you have been looking into orthodontic treatments, you may have come across Invisalign before and wondered what it's all about. It is generally acknowledged that whilst braces help to improve your smile in the long run, one of their main drawbacks is their appearance in the short run.
Thanks to Clear-Aligner, invisalign and orthoclear technology, crooked teeth can be corrected with invisible transparent plaques without the use of brackets. In the Clear Aligner treatment, these palates, which are designed in computer environment, are set-up 3 times per month and replaced for periods such as 1 and 2 weeks, allowing the teeth to reach the desired ideal position.
The time needed for Invisalign to work its magic will depend on the severity of the patients case. This means that cost will also vary from patient to patient as some people will need many aligners and others will require just a few.
Invisalign offers the complete cosmetic orthodontic programme. We will begin with the most important part of straightening your teeth with the series of Invisalign aligners. After this stage has been completed, we will whiten your teeth (if required), followed by any recontouring (if required) to truly give you that perfect smile!
You will then have the choice of having removable or bonded (our preferred choice) retainers to help maintain your new smile. This is already included in your treatment plan. We prefer the bonded retainers as they will be discretely hidden on the backs of your teeth, which is great for vanity and aesthetic reasons, and it also means there isn't any chance of taking out your retainers to eat and breaking them (which can be common with removable retainers).
Invisalign offers the patient a series of clear, removable aligners which are changed every 2-3 weeks. There is no tightening to be done, no changing of wires and no elastic bands to get in the way. Instead, all of the adjustments are made with one new aligner every few weeks.
Since the aligners are clear they are hardly visible in the mouth at all and will fit perfectly against your teeth. As each aligner is individually moulded to specifically fit each patient, Invisalign is much more comfortable than conventional braces.
Yes! it is totally safe and has no side effects.
Traditionally, braces are made using metal, plastic or ceramic brackets. These brackets are fixed in place to the front of the tooth and a wire is then held between them. Whilst braces are clinically proven to deliver very effective results, many prospective patients are afraid to wear them as they do not like the idea of their appearance during treatment.
We offer a solution as our dentists can fit you with Invisalign which will give you a beautiful smile as conventional braces will, but without compromising your appearance during the treatment.
It provides more advantages than brackets as it can be removed while eating, cleaned easily and is not noticeable in the mouth. If you're ready for a smile that will change your look, Invisalign is the answer. Although there are many options in this area, no treatment is as comfortable and effective as Invisalign.