What does Pediatric Dentistry (Pedodontics) Surgery consist of? What should be considered about Pediatric Dentistry (Pedodontics) - children teeth treatments in dental prodecures in Antalya, Turkey?
Pedodontics or Pediatric Dentistry aims to protect the health of the milk and permanent teeth of children in the 0-14 age group. Dentists will try to educate children and prevent or treat the dental problems that can occur with poor hygiene standards as well as an unsuitable diet.
Antlara Dental clinic is able to provide all necessary dental treatments children need and prides itself on being a welcoming friendly clinic that children enjoy visiting.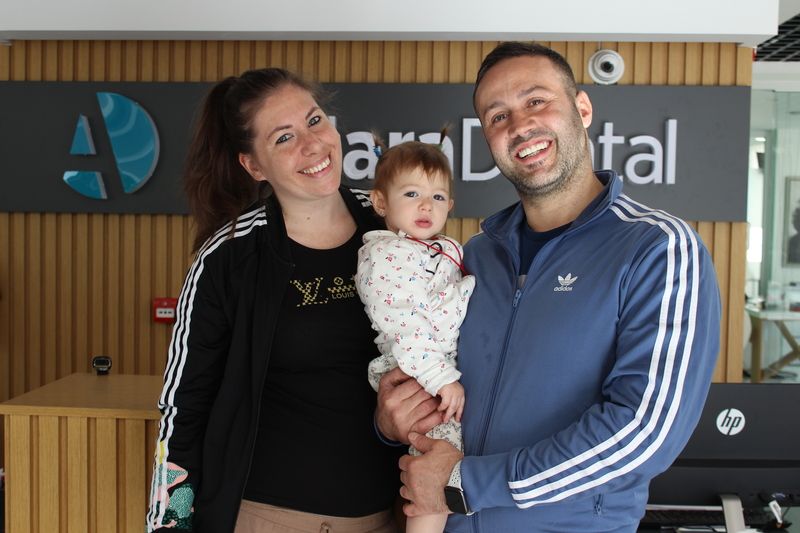 Pedodontics and Pediatric Dentistry in Turkey
Pediatric dentistry, known as pedodontics, is a specialty of dentistry dealing with infants, children, and adolescent oral health care. A pedodontist specifically takes an advanced education program after graduating from a dental college.
Pedodontics that is, Pediatric dentistry, deals with the prevention and curing of oral problems of a child from birth until the root development of permanent teeth is completed. Additionally, they are well trained in children's psychology and promote children`s oral health by assisting both infants and parents.
Experienced pedodontists perform the first doctor-patient relationship with children in appropriate environments and conditions specific to kids. This practice is the most influential element in preventing the development of dentist phobia in children.
In Turkey, students go through a highly challenging process to become pedodontists. Firstly, they must be among the top 20,000 out of 2000,000 to become a dentist, then complete 5 years of dentistry training followed by 3 years of pediatric dental training. That is what underlies the success of dental treatments in Turkey.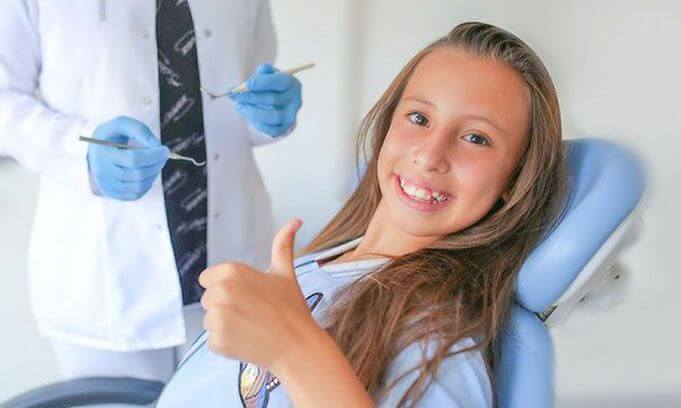 What is the Concept of Pediatric Dentistry?
Pediatric dentistry focuses on the healthy growth of a child's oral structure. Small applications in this period can prevent significant impairments in the future. Babies begin to develop their first milk teeth in the first 6 months, and when they are at 6 years old, they begin to replace them with permanent teeth. At the age of 12, the development of most of the permanent teeth is completed.
Children are exposed to quick structural transformations in their mouths, so the need for a pediatric dentist occurs there. In addition to that, children like to eat anything detrimental to their teeth and their bone growth.
Pediatric dentists provide valuable information and education for both parents and children. In addition, they strive to prevent irreversible structural oral problems and other teeth problems such as decay, cavities, etc.
When Should Children Have Their First Dentist Visit in Pediatric Dentistry?
Your baby should first visit a kid's dentist before a candy shop. According to the American Academy of Pediatric Dentistry, children and toddlers should see a dentist before their first birthday. It may seem earlier for a baby to see a dentist, but each year that the child is late, the risk of oral diseases doubles.
Parents refresh their knowledge about infants' oral care and avoid misinformation with this first visit. In addition, these early visits also raise parents' awareness of signs of early decay. Thus, they prevent them from turning into cavities. Otherwise, it swiftly leads to serious infections and destroys the entire tooth.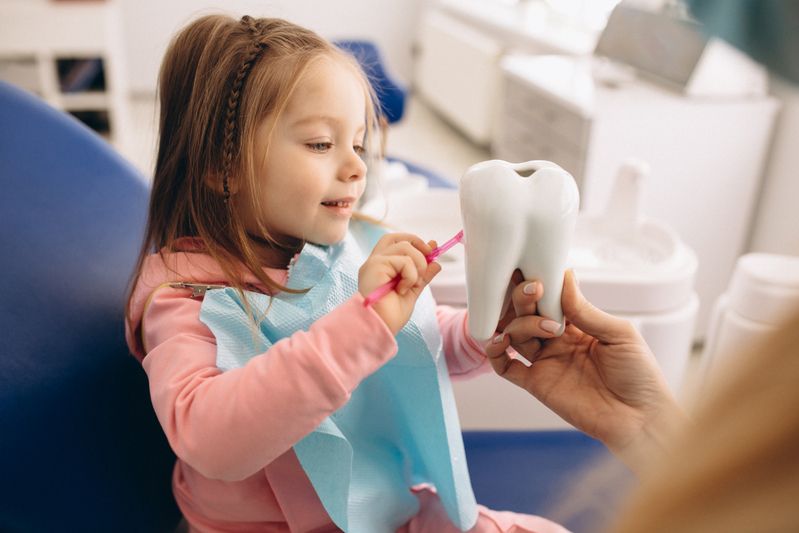 Why is Pediatric Dentistry Important?
From the age of 3 to the age of 5, the cavities rate in children increases 28 percent to 50 percent. Because the mouth is the access point of the body, infections in the mouth affect oral health and general health. If a mouth is loaded with toxic bacteria, the risk of acquiring particular ailments will be higher. A pediatric dentist quickly assesses and takes immediate measures in case of any problem with the infant's teeth and jaw, which prevent possible future restrictions.
Milk teeth protect and guide permanent teeth while they are emerging. If milk teeth are not adequately protected, the permanent teeth will be misguided and lead to misalignment problems. Children dentists can predict emerging orthodontic disorders, take precautions, and refer them to the orthodontist when necessary. The kids' dentist will take measures to prevent these cavities rather than treating them that have formed on the teeth.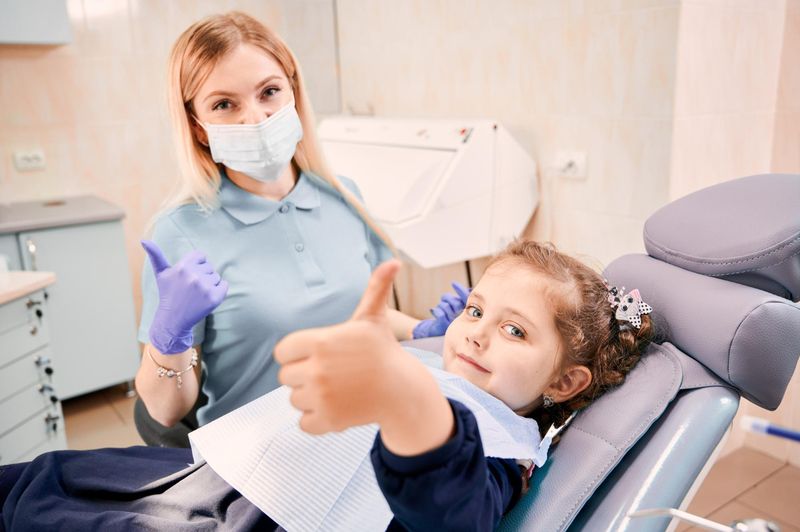 What Treatments are Included in Pedodontic Controls?
A pedodontist treats a wide range of dental problems, including;
Preventive Care and Cleaning
Early diagnosis of dental problems, along with professional cleaning, is an easy and affordable way of solving them.
Fluoride Treatments
To strengthen the teeth and prevent the build-up of bacteria and tartar, pediatric dentists apply fluoride treatments.
Fillings
In the case of decay or injury, a filling can solve the problem.
Sealants
Sealants-a resin material attached to the areas decreases the risk of cavities up to 80 percent.
Bonding
To fix the chipped, crooked, or discolored teeth, bonding can be applied to infants or adolescents.
Gum Disease
Pedodontists avert future problems by identifying and treating gum diseases.
Emegencies
If a tooth is broken or lost, a pediatric dentist provides immediate supervision and secures a tooth that otherwise may have failed.
Pediatric Dentist in Turkey
Pediatric dentistry in Turkey is dedicated to raising standards for pedodontics and children's oral health from birth to age 16. To provide valuable oral health for every child, pediatric dentistry in Turkey has made massive progress. Becoming a pediatric dentist in Turkey is a harder and longer process than even in the USA. Since Turkey`s top students have chosen the health sector as their profession for more than 150 years, the quality emerges automatically.
Pediatric dentists in Turkey are also educated to deal with medically compromised and emergency patients who need special care, not to deepen the actual condition. At Antlara Dental, Dt. Ozge Can Oztekin overcomes such situations and provides effective treatments safely. She collaborates with an orthodontist team so she can treat oral problems for diabetics, down syndrome, cancer patients, and heart patients.
General Anesthesia and Sedation in Children in Pediatric Dentistry in Turkey
General anesthesia is a state of complete inactivity. It is executed in a single session for extremely afraid children who cannot be persuaded. In Turkey, it is performed by a general anesthesiologist. General anesthesia can be done intravenously or with anesthetic gas.
During the sedation period, the patient's vital functions are controlled by an anesthesiologist. In the meantime, dental treatment is performed by a pedodontist. Whenever the treatment is completed, the patient is awakened by the anesthesiologist and discharged. In case of problems such as flu, cough, or high fever, the treatment will be postponed.
Although pediatric patients are treated with sedation, a pedodontist (pediatric dentist) should perform these treatments in equipped centers together with an anesthesiologist. Unlike general anesthesia, in sedation, the patient continues to breathe without being connected to the machine.
Therefore, sedation has almost no risk. Patients with certain health problems, such as heart disease, should be sent for detailed examinations. The procedures shouldn't be applied unless an expert takes medical approval.
Free Appointment - Pedodontics
You can make a free appointment below to have a pedodontic treatment for your child in Antalya.
25+ years of dental treatment experience and professional patient services.
Free Appointment
What is fluoride application in Pediatric Dentistry in Turkey?
Fluoride application is completely safe, and its protection has been scientifically proven. A dentist can only apply superficial fluoride applications. With this method, fluorine joins the structure of the tooth enamel, helps mature the enamel, and protects it against bacteria and plaques.
In addition, fluorine prevents the progression of white spots. This application is a quite simple and preventive treatment that takes only 5 minutes. The dentist determines the application frequency according to tooth decay risk. However, the application is effective for 4 to 6 months. It has no side effects when applied correctly.
With regular fluoride application in Turkey, you can achieve maximum care for your child's oral health. If you are in Antalya or planning to come here, you can take our easy and free online consultation on our website. When you write us, one of our professional dental experts will evaluate your condition and explain possible treatments for your situation.
Fissure Sealant Applications in Pediatric Dentistry in Turkey
Fissure sealant application is a simple and painless procedure that is applied to the molars and takes only a few minutes. The procedure is mostly used in children but can also be applied to adults. The procedure is also known as dental grafting and is sometimes called tooth polish and protector. Although brushing is done frequently, the bacteria in the grooves on the teeth are not always completely cleaned. With this method, the cracks are covered to prevent the formation of bacterial accumulation and related caries.
Don't wait until irreversible tooth decay occurs; feel free to counsel a fissure sealant Turkey clinic. The procedure is performed as follows:
The tooth on which the application will be made is thoroughly cleaned and dried.
The chewing surfaces of the teeth are prepared with an acid solution, filled with the prepared filling material, and the material is expected to harden. Sometimes dentist applies special light to harden it.
PEDIATRIC DENTIST - FAQ
What is Oral Sedation for Pediatric Dentistry?
Oral sedation keeps patients conscious but in a dormant state during the treatment. The drugs and doses used in the sedation process vary depending on the patient's age, medical history, and gender. Drugs with mild sedative and pain-reducing effects are used during this procedure.
What Age Should You Start Pediatric Dentistry?
Tooth development in children begins at 6 months, and as soon as the teeth are formed, they are unprotected against decay. So, children need to see a pediatric dentist before they turn one year old.
What are the Most Common Dental Procedures in Pediatrics?
Cavities are the most common dental problem among children; thus, pediatric dentist often deals with the solution to this problem. Sealand, fluoride treatment, filling, extractions, orthodontic care, and x-ray are among the most typical procedures.
Pedodonti - Antalya
Pedodonti Uygulamaları - Antalya
In our clinic, all necessary dental treatments are applied to children. Excellent oral and dental health of children can be ensured by regular dentist control every 6 months. During these checks, any problems threatening oral and dental health can be detected. What is important here is the early diagnosis and treatment of these problems. Early diagnosis in the pediatric patient will positively affect the physical and emotional development of the child.
Mouth and palate structure
Formation of milk teeth
Transition from milk teeth to permanent teeth
Caries in permanent teeth and milk teeth
Deformities in permanent and milk teeth
The initial examination of the pediatric patient begins by communicating with both the child and the parents of the child. After the meeting, medical and dental history of the patient is taken. Then, clinical and radiographic examination is performed. After these stages, the patient and his / her parents are informed about the diagnosis and treatment planning. Many methods are used to protect milk and permanent teeth from major oral diseases such as caries and periodontal diseases.
These; teaching oral hygiene concept, gaining the habit of brushing teeth, teaching methods, application of systemic and topical fluoride, application of fissure sealants.
Hot and cold food can cause discomfort or irritation for teeth. Also the worn down tooth enamel, gums problems or microscopic cracks in teeth, may cause the irritation that nerve ends without proper dentistry. It has been observed that kids are the general victim of sensitive teeth problem & sometimes they need emergency dental solutions.
Along with teddy bears, thumb-sucking can be one of the most favorite aspects of childhood. It is important to pay attention to child's habits that can damage their oral health. Children may suck a thumb or a finger from a very young age. It is natural for an infant. However, some children continue sucking beyond the preschool years.
If a child is still sucking when his/her permanent teeth start to erupt, it may be the time to take action to stop the habit. If at any time you suspect your child's thumb-sucking may be affecting their oral health, please contact us. We can help you assess the situation and suggest possible solutions.
Unlike other teeth whitening procedures, such as home teeth whitening treatments, Zoom! Advanced Power ™ teeth whitening can typically provide results six to ten shades lighter after just one short visit to the dentist.
The convenience of Zoom! Advanced Power ™ teeth whitening in comparison to tray or strip methods makes it the perfect choice for the busy individual.
Mom and Dad, start early. As soon as your baby is born, gently clean your baby's gums after each feedings with a soft, damp washcloth. Make this a part of your routine and help your little ones build a lifetime of good oral habits.
Take your child to the dentist as soon as you welcome your baby's first milk tooth or by his or her first birthday. This way, your child's dentist gets a better chance of preventing any dental problems.
Morning appointments are best for your child's first visit. Coming from a good night's sleep, your child is more rested and much more cooperative in the morning. Also, morning appointments will not pose conflicts on your child's mealtimes or naps.
Children who enjoy their first trip to their dentists (and their sunny, colorful rooms with fancy paintings on the walls) suggest a promising attitude towards their dental care, health and habits.
A primary tooth still in position with a permanent tooth trying to erupt in the same space is termed an "over-retained" tooth, and requires removal of the primary tooth. The presence of primary teeth in teenagers and adults indicates a potential problem, such as congenitally missing or impacted permanent teeth. Early diagnosis allows for a better outcome. Regular dental care will allow the dentist to monitor growth and development.
Take your kids to dentist before they have or start any dental problem. It is important to train and teach children to keep their teeth clean and the importance of maintaining oral hygiene. Most children do not like brushing their teeth, but parents have to inculcate these habits strongly from childhood to prevent decays and cavities.
Antlara Dental Polyclinic
Early Diagnosis & Treatment Planning
Early diagnosis in a patient and subsequent treatment will positively affect the physical and emotional development of the child.
Contact
Child Treatment Approach
In our clinic dental treatments are applied with care and patience. We appreciate it can be scary for children to experience the dentist so we ensure they are always at ease and happy.
Contact
Dental Care Education
Teaching the concept of oral hygiene, encouraging the habit of brushing teeth and educating them about diet is important for the child's future oral and dental health.
Contact