As a part of cosmetic dentistry, veneers come in a wide variety of properties and materials. Discoloured or stained teeth, crooked teeth, and minor fractures can all be effectively treated with them. 
Veneers are also common in aesthetic dentistry when creating smile designs. Dentists may use different types of veneers for different teeth shades and structures. 
Getting veneers done can be overwhelming; many factors that are associated with your decision to get dental veneers. We want you to have an in-depth knowledge of what you are looking for when you start your search.
Here is everything you need to know about which type of veneer is right for you.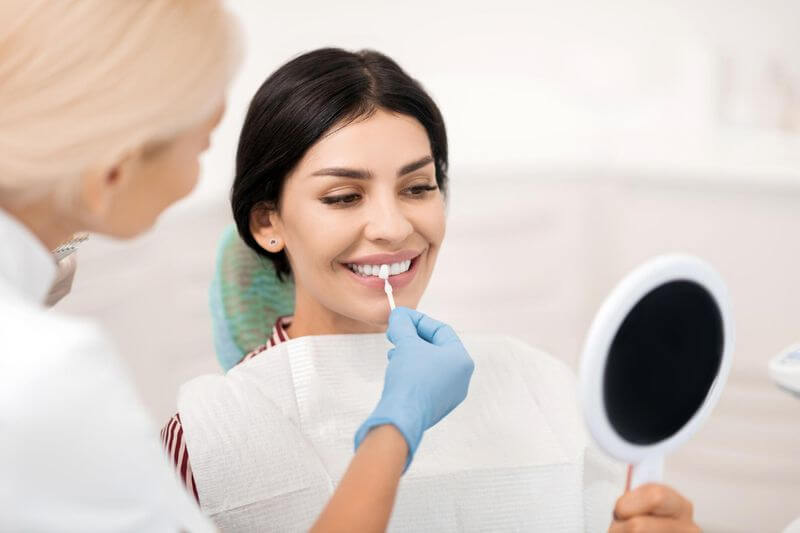 What is Dental Veneer? Who is Suitable for It?
Applied to the front surface of teeth, dental veneers are materials that cover the entire surface of the tooth. Using them in smile designs is an excellent way to achieve the desired results. Veneers enable dentists to design teeth that are slightly longer on the front teeth and shorter on the back teeth.
Each type of veneer involves a different amount of scraping of the tooth surface, but the amount is generally quite small. It can thus be applied without causing too much abrasion to the teeth.
The majority of veneers are used for aesthetic purposes in the anterior region, but they are also used to close cavities after treatment. 
Different types of veneers may be preferred in different regions. A laminate veneer is the best type of teeth veneer for the anterior region, whereas porcelain fused to metal veneers (PFM) or zirconia veneers are better for the posterior areas.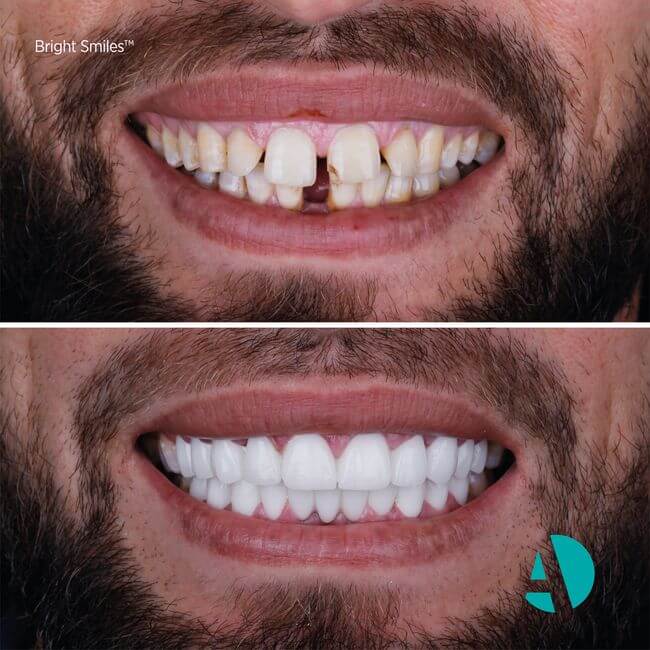 Types of Veneers
Every veneer has different properties as a result of the different production techniques used to produce them. The areas of use also differ based on these features. Listed below is detailed information on types of veneers. 
1. Porcelain Veneers
Porcelain is generally thought of as the best veneer material. Although it has a hard and brittle structure, it has high light transmittance and is quite aesthetically pleasing. There are so many different types of porcelain veneers, but we can generally group them into a few categories.
a. Laminate Veneers
Laminate veneers are one of the most preferred materials in the field of aesthetic dentistry. Their application involves very little tooth abrasion (0.1-0.3 mm). Typically, they last between 10 and 12 years. As they do not damage the tooth structure, their change does not pose any problems.
b. Empress Veneers
Empress veneers are obtained by chemically processing porcelain veneers and coating them with glass ceramics. With their thin structures, they provide the desired aesthetic and natural appearance. They have an average resistance force of 150Mpa. 
c. E-Max Veneers
Emax veneers are a type of Empress veneers. This is the name given to them by the manufacturer. They are produced using lithium disilicate. 0.3-0.7 mm of abrasion from the tooth surface is required to adhere to the tooth.
Their thin and light transmittance structure allows the same results as laminate veneers. Their resistance force is 420 MPa. With Zirconium reinforcement, Emax offers up to 500 MPa resistance.
d. Zirconia Veneers 
Zirconia is a kind of porcelain veneer obtained from zirconium. They can provide resistance up to 1100 Mpa. Additionally, they are softer than porcelain veneers and have very high biocompatibility.
On average, they last 20% longer than all-porcelain veneers. Due to its high opacity values, zirconia veneer cannot achieve the natural look of laminate and E-Max veneers.
Zirconia veneers are more suitable for posterior teeth because of their robust structure. In zirconia veneer, teeth must be abraded around the entire edge of the tooth, whereas laminate veneers only require abrasion on the anterior surface.
The amount of abrasion in zirconia veneer, which is around 0,7-1mm, is also higher than the laminate veneers.
2. Porcelain Fused to Metal Veneers
PFM veneers are made by coating porcelain with metal. They are long-lasting veneers that are about 20 years or more. Since porcelain's metal content causes grey color formation on the gums and allergies, its use has decreased in recent years.
3. Composite Veneers
Composite veneers are made with bonding material that is used to bond veneers. It is applied to the tooth without abrasion. They have an effective lifetime of 5-7 years. Since they do not damage the tooth structure, they can be easily renewed.
4. Metal Veneer
The metal veneers are very thin and solid veneers that can last up to 30 years. However, they are not preferred because of their colours. 
All Shapes of Veneers
Veneers can be designed in the desired shape and size for each tooth. Because of this, there are hundreds or even thousands of different shapes of veneers, but 12 standard veneer shapes have been established so that you can easily choose veneers for your teeth.  
1. Aggressive
This method gives the central incisors and lateral teeth a square appearance while the canines are slightly curved. It is more common for men to employ this method, which reflects a more powerful personality. 
2. Dominant
Central incisors have a rounded square appearance, and the corners of the lateral teeth are rounded. The canine teeth are sharply prominent. The lateral incisors are slightly longer than the central incisors.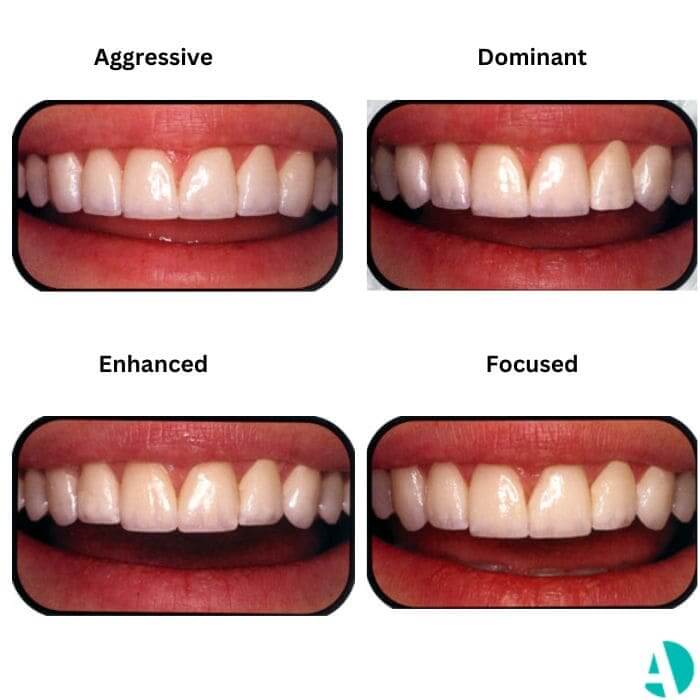 3. Enhanced
In this smile style, the edges of the central and lateral teeth are slightly rounded. The canines are indicated pointedly. As the teeth go backward, they become more visible, thanks to the design. This is why women choose it for beauty contests or to emphasize their white teeth. 
4. Focused
This model is very similar to the enhanced model, but in this model, the edges of the central incisors are not rounded; they are square. 
5. Functional
This model is designed like the enhanced model, except that the canines are emphasized more. They are slightly longer than the central incisors.  
6. Hollywood
In the Hollywood smile design, the central incisors are slightly longer than the other teeth, the teeth get shorter as you go back, and the tips of the front teeth are visible when the mouth is free.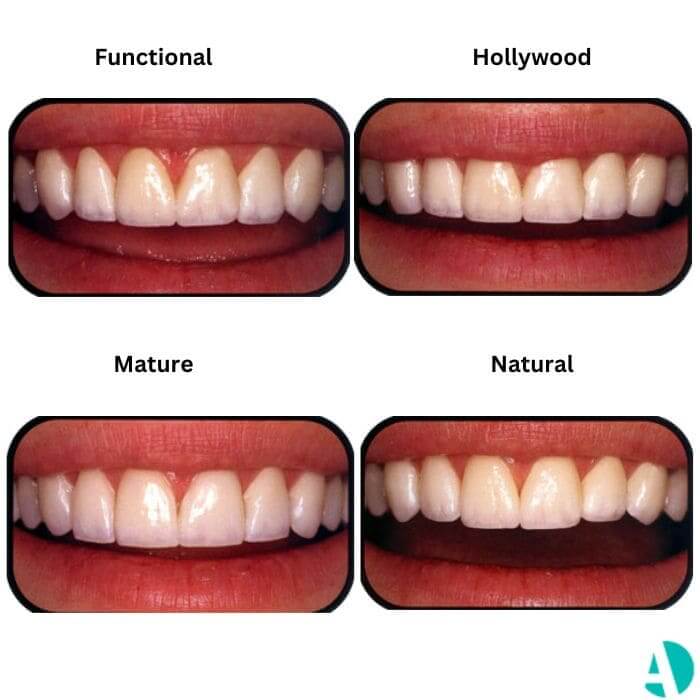 7. Mature
Like the aggressive design, but with a more prominent canine tooth. 
8. Natural
Like the enhanced design, but with more prominent canines.  
9. Oval
In this method, the teeth are rounded more, creating a more oval appearance than in the aggressive style. 
10. Softened
Oval designs are less highlighted in this method and are more noticeable for the posterior teeth.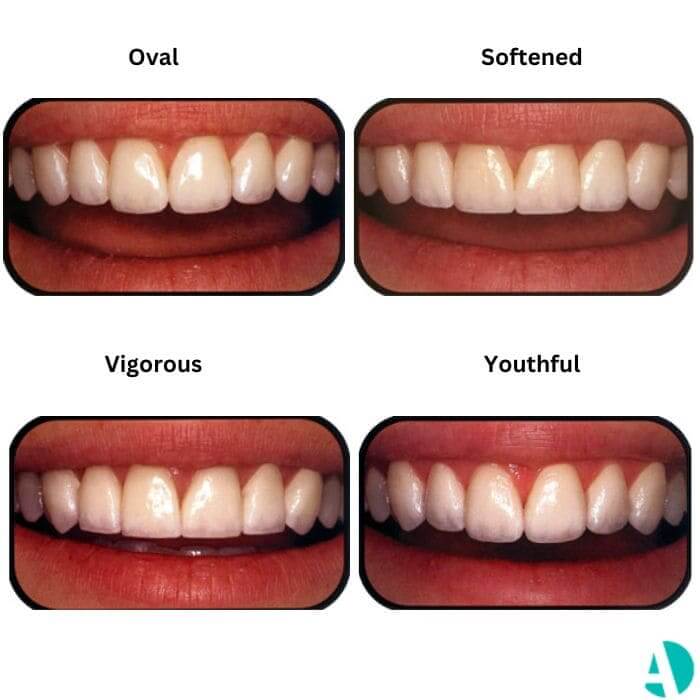 11. Vigorous
Like the aggressive style, the central incisors are square and flat, but the canines are prominent. 
12. Youthful
It has a similar structure with an oval design. However, the canines are more prominent and protruding, as in the vigorous style. 
Colours of Veneers
Veneer colours are determined by the colour of your natural teeth and skin colour. Dentists generally prefer two shades of lighter colours to provide the desired result better.
Veneers color chart usually consists of 4 categories, and each category has 11 different colour options. In the veneer teeth color chart, the categories are reddish-brown, reddish-yellow, grey, and reddish-grey.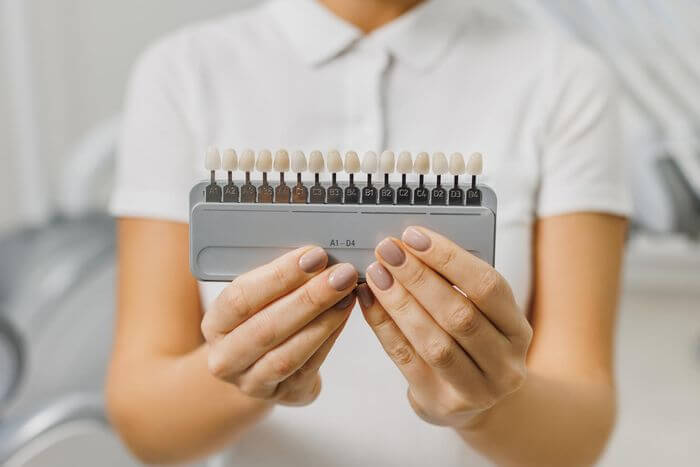 What Color Veneers Should I Get? 
In this decision made jointly with the aesthetic dentist, try to convey your expectations to your dentist as clearly and precisely as possible.
Dentists will recommend lighter tooth tones for someone who is constantly in front of the camera, while they will recommend grey tones for more formal work. In general, there are 5 main elements in determining the color of veneers.
The natural colour of your teeth
Your skin colour
Your gender
Your age
Your profession
What Are the Benefits of Veneers?
Once considered to be an expensive cosmetic dental treatment available only to Hollywood stars, veneers now offer both aesthetic and functional benefits.
Inpidual designs and colour options can be tailored to each person's facial structure and style.
In addition to improving the sense of confidence, it prevents people from feeling inferior because of their teeth.
They cannot cause major damage to the tooth structure.
They can be renewed after the end of their functional life.
Patients using veneers give more importance to their oral and dental health.
When it comes to dental veneers, you want the most natural bright, and healthy smile. The good news is now, you have all the necessary information you need when choosing which one is best for you.