What is Zirconium Crowns in dental implant treatment?
Zirconium crown is a veneer method on teeth. Zirconia crown not only does not harm your dental health but also provides a perfect aesthetic satisfaction. Zirconium crowns prices in Turkey vary depending on various factors such as the number of teeth to be veneered and the materials used.
This method, which is performed by veneer the surfaces of the teeth, has advantages such as being more resistant, not causing any problems such as darkening or purple appearance, and not encountering a feeling of sensitivity, making it more preferred over other methods.
You can contact Antlara Dental and get help from specialist dentists in order to have healthier teeth and give your smile self-confidence.
Zirconium Crowns in Turkey
Zirconia crowns are preferred where strength, tissue compatibility, and aesthetics are required. Dental professionals seeking the most technologically advanced metal-free restorations are increasingly turning to zirconia for their treatments.
Zirconium crowns are used in the treatment of inborn discolorations in the teeth, in correcting discrete or slightly crooked teeth, in repairing teeth that have lost excessive amounts of substance, and in restoring the smile aesthetics of the front teeth. Unlike metal-supported ceramics, zirconium crowns have a high light transmittance, which prevents an artificial image. Zirconia Crown can be used in such areas;
Single tooth crown restorations,
Bridges with 3-6 members (anatomical length up to 38 mm)
Implant crown-bridge
What should be considered for Zirconium Crowns in dental implant treatment in Antalya?
If you are looking for high-quality dental treatment, you should try to take advantage of the opportunities provided by dental tourism, which is preferred by millions of people and continues to increase every year.
Countries like Turkey, which are specialized in the dental field, can offer you both quality services and affordable prices. Turkey is a go-to dentistry destination for almost 150 hundred thousand European dental tourists each year, who also enjoy its holiday opportunities.
If you are looking for a first class
If you are looking for a first class dental service, look no further. The Antlara dental clinic is without doubt the best in Turkey.
Lisa Godden - 2021
Five Stars Of Course To Ziya!
Clinic manager Ziya Bekir is very friendly and it is super easy to arrange with him an appointment. The doctor Tolga Alp is very professional and nice.
Sandra Jelic - 2021
I came for a cleaning of my teeth.
I came for a cleaning of my teeth. The treatment was professional. Also the service desk downstairs was very good. awesome!
Marijke van Wierst - 2021
Free Appointment - Zirconium Crowns
You can make a free appointment below to have much more information about zirconium crowns dental treatment in Antalya, Turkey.
25+ years of dental treatment experience and professional patient services.
Free Appointment
What is Zirconia Crown?
Zirconium crowns are produced with a computer-aided production system. The design is scraped from a single-piece block with CAD-CAM technology to obtain a zirconium substructure. This zirconium substructure is biologically compatible with teeth, gums, and surrounding tissues. Healthy and aesthetically beautiful dental crowns are produced by processing porcelain ceramics or zirconium substructure on this zirconium substructure.
Patients can wear these redesigned teeth for many years. Zirconia crowns, though not as strong as metal crowns, have a resistance strength between 900-1100MPa, compared to 300-500MPa for porcelain crowns. This most significant feature makes them an indispensable element of crown treatments.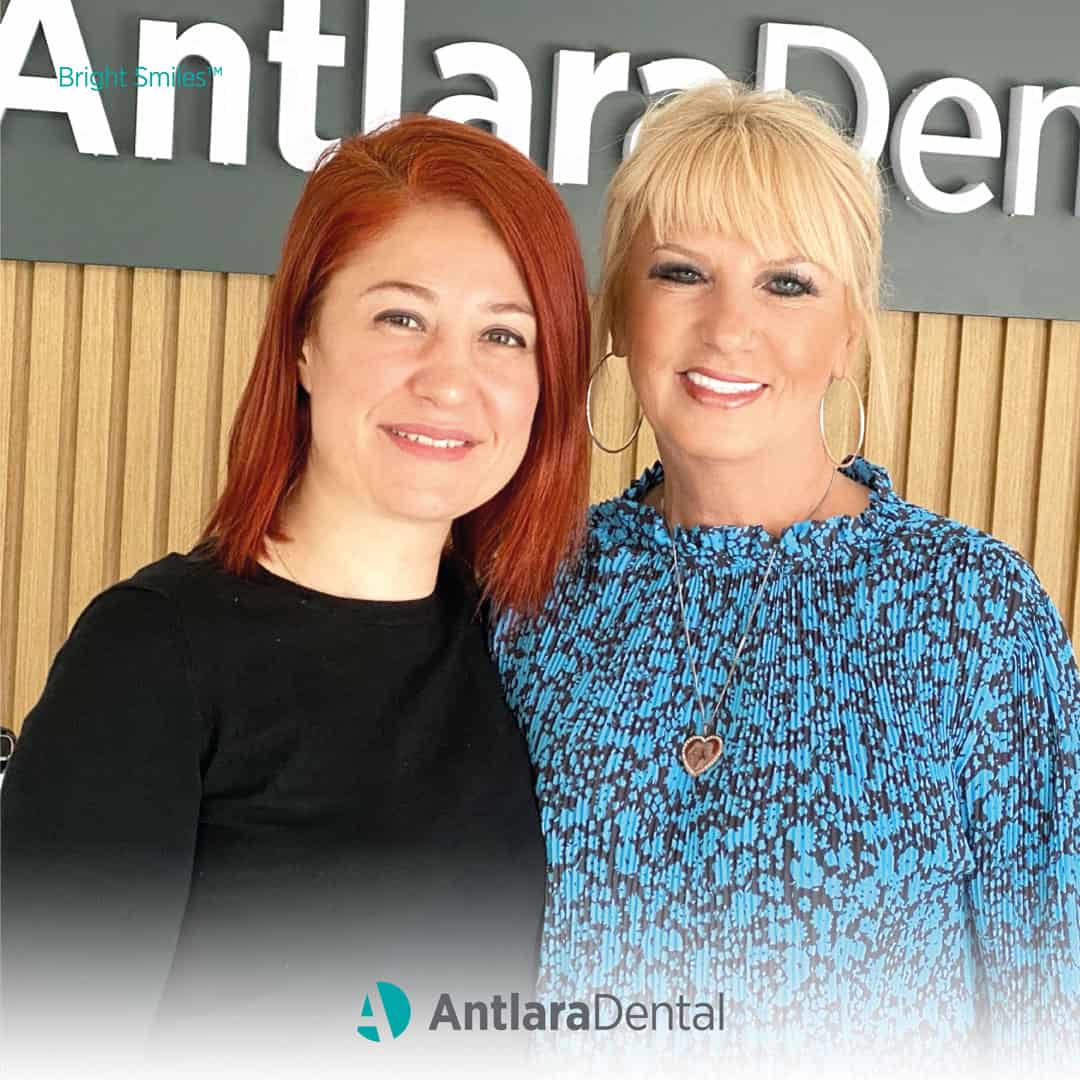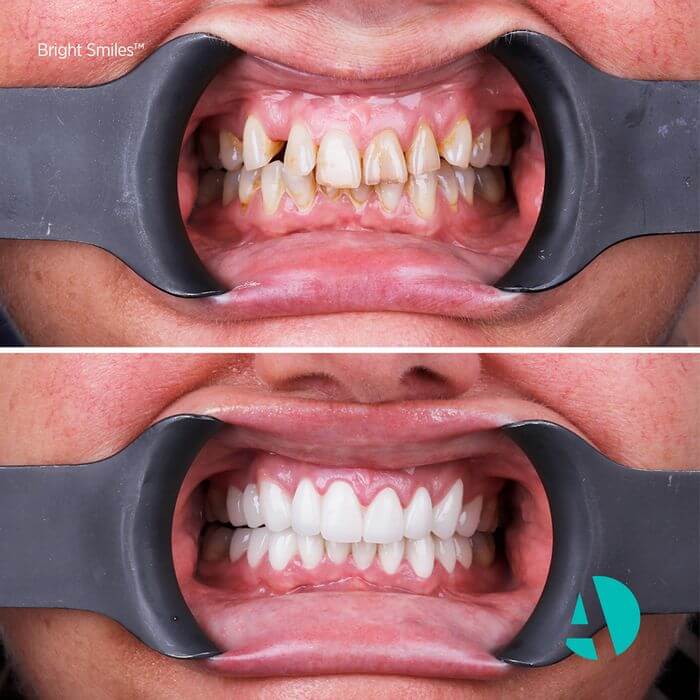 Steps of Zirconia Crowns
Although crown treatment steps may vary depending on the need for additional treatments, a typical zirconia treatment follows these steps.
Consultation
The first step starts with your first appointment with the dentist. If you have decided to undergo the treatment process in a different country, we can arrange an online appointment with you. If you are nearby, we can host you at the Antlara Dental London office. You can check out our zirconia crown before and after photos and testimonials on our website.
The dentist takes 3D pictures of the mouth and performs any necessary examinations, then speaks with the patient again to explain every aspect of the treatment. The patient is also expected to explain their preferences according to examination results.
Treatment
By applying local anesthesia, the dentist performs oral cleaning and necessary dental treatment. After this stage, the preparation of the teeth is carried out.
To achieve the desired occlusal reduction in zirconia crown treatments, 1 to 1.5 mm or, in some cases, 2 mm scraping from the tooth surface is required. In addition, a reduction of at least 0.5 mm is also required at the gingival margin.
After tooth preparation, the dentist makes measurements again in the mouth and sends the results to the laboratory technician. With temporary crowns attached, the patient is discharged the same day.
Second Appointment
Within 10 days, the patient called again to wear his permanent crowns. At the second appointment, the dentist removes the temporary crowns and makes last adjustments on the permanent crowns, and in some cases, may order a replacement from the lab if the peaks are not fitting correctly.
How long does Zirconia Crown treatment take?
Zirconium crowns are usually applied in two sessions and can last about two to three weeks. However, in complex situations, the treatment may take months. It is also possible to insert zirconia teeth in Turkey on the same day with CAD-CAM technology.
In crown treatments, gum lines should also be prepared for crowns with gum surgery. So, same-day treatments may be more uncomfortable for the patient because gum sensitivity requires at least 2 days to pass away entirely.
Benefits of Zirconia Crown?
The smooth surface of zirconia crowns makes them highly biocompatible and prevents plaque accumulation.
Zirconia crowns are highly durable and aesthetically beautiful.
Chipping and fracturing are extremely rare.
Promotes an optimal tissue response.
Safe for patients with metal allergies or those who prefer metal-free restorations.
Zirconia does not contain metal, so it does not darken the gingival area.
When is a Zirconia Crown required?
To preserve tooth structure, you should use minimally invasive dental treatments. Some cases, however, may not be corrected with orthodontics or veneers due to excessive crowding. In this case, you can use crowns. While zirconia crowns are mostly preferred for the frontal region, they are also preferred in short and long bridges, thanks to their robust structure.
However, dentists may prefer metal-supported porcelain crowns for molars or bridges because they are more durable than zirconia.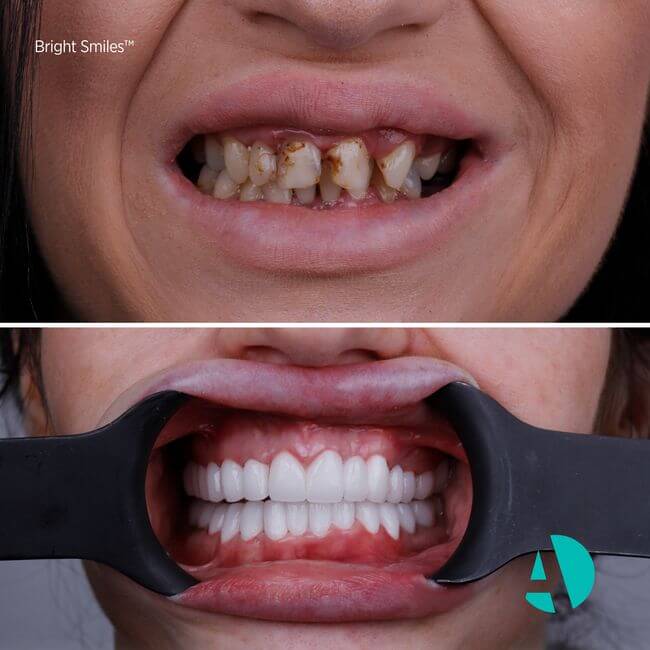 Who is the best candidate for Zirconia Crowns?
The best candidates for zirconia crowns are those with complex teeth problems that cannot be corrected by veneers or orthodontics. In addition to offering a perfect solution for anterior regions, they can also offer a convenient solution for posterior areas. They are also suitable for people with metal allergies.
For zirconium dental crowns, patients should complete their facial development, so zirconium crowns are not recommended for those under 20. Zirconium crowns can be applied to people with gum disease, as long as the patient treats their gingival problems first. Zirconia crowns can be used for treatments such as;
In crooked teeth
If the person did not prefer orthodontics, -separate teeth,
They can be preferred in large-filled teeth with excessive substance loss.
How long does Zirconia Crown last?
Zirconium crowns have an average lifespan of 25 years. If you are thinking of getting zirconia crowns, you can get the most accurate information about their life and complications from scientific studies. Here are the results of a scientific study based on 10 years of observation;
For a dentistry product to be considered as successful, the 5-year survival rate must be at least 95%, and the 10-year survival rate must be 85%. Zirconia crowns are above these standards and have fewer complications, such as chips or fractures, than porcelain fused to metal crowns.
The 5-year survival rate of zirconium crown is 98.1%
The 10-year survival rate of zirconium crown is 90%.
However, the 10-year success rate for patients with bruxism is 65%.
What are Zirconia Crown prices?
Zirconia crown treatments are evaluated in two different ways as simple and complex treatments. For simple zirconia crown treatments that do not require too much orthodontic treatment, the price list is as follows;
| | | | |
| --- | --- | --- | --- |
| | UK | USA | Turkey |
| Single zirconia crown | £800-£1200 | $1000-$2000 | $250-$450 |
| Four zirconia crowns | £2800-£4000 | $3500-$7000 | $800-$2000 |
| Eight zirconia crowns | £5000-£8000 | $7000-$14000 | $1500-$3500 |
For complex zirconia crowns in Turkey treatment, requiring additional treatments such as brace treatment, aesthetic operations, or any orthodontic treatment, the cost will be much higher than these prices.
Zirconium Crowns Turkey
If the high fees in your country prevent you from receiving the necessary dental treatments, you should look for alternative countries. It will be more detrimental for you to choose to wait and leave these problems unresolved instead of fixing them.
Because if left untreated, the crowded teeth will not only disrupt your aesthetics but will also threaten your gums by preparing the appropriate ground for the formation of bacteria and plaque.
Our clinic in Antalya offers you various treatment options at affordable prices. Our orthodontic and aesthetic dentists have 25 years of experience. We welcome a variety of foreign patients each year, including those from Germany, UK, Russia, Ireland, and the United States.
Our team adheres to a conservative approach to dentistry and is dedicated to ensuring patient education, treatment excellence, and informing patients about all treatments and fees in advance.
Zirconia Crowns - FAQ
Zirconia Turkey - Antalya
Zirconium crowns are performed under local anesthesia, so you will not feel pain or soreness. Sensitivities may occur in your teeth and gums after the treatment, which can last several days.
After a few days of tooth and gum sensitivity, mild pain may be felt for up to two or three weeks. However, if the pain continues after this period, you will need to contact the dentist again.
In more complex zirconium crown treatments;
The tooth reduction process required for crown and bridge prostheses can sometimes cause pain in the teeth. When cutting a large amount of teeth for various reasons (tooth in an overly crooked position or previous tooth decay, etc.), the pulp layer containing the nerves of the tooth may be exposed and cause severe pain in the tooth. In such a case, root canal treatment should be performed on the teeth before the dentures are attached.
Zirconium crowns are produced in all tooth colors and are very close to the natural tooth color tones. Their light transmittance is quite high so that they can offer strength and aesthetics together. As there isn't any reflection under the coating, there is no artificial appearance, resulting in a reasonably white and healthy appearance. As zirconium porcelain is compatible with gums, gum discoloration does not occur in the gum line.
Zirconium crowns do not show serious coloration or staining as long as proper oral care is provided. Staining may be seen in patients who do not pay attention to oral hygiene and have excessive smoking, tea, and coffee consumption. In a study based on 10 years of scientific observations, it has been observed that zirconia crowns are significantly less stained than metal-supported and all-porcelain crowns.
Patients who cannot replace their zirconia-based restorations can opt for the intraoral repair of chipped restorations. The treatment for the fracture surface plays a crucial role in determining the durability of zirconia-based restorations.
When zirconium crowns are moderately damaged, dentists can repair them using different methods. Typically, cladding zirconia is etched with hydrofluoric acid, salinization is performed on the zirconia framework, and air etching follows, followed by a primer. Lastly, the dentist applies bonding material to fix it.
Zirconia is a type of porcelain produced from zirconium and has the same characteristics as porcelain. So, as with metal crowns, it does not cause any smell or allergy in the mouth. By taking advantage of Turkish clinics, you will benefit from their zirconium crown Turkey price advantages and state-of-the-art technology.